Latin America
North America
Venezuela vows to respond US airspace violation forcefully
Venezuela has accused the US military of violating its airspace along the South American country's border with Colombia, pledging to "respond forcefully" to any maneuver it deems an act of aggression.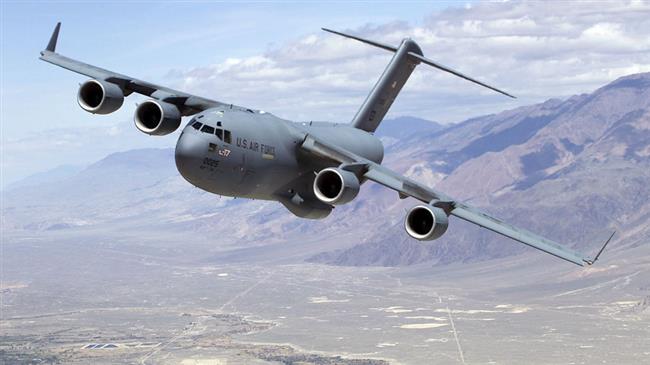 The Venezuelan armed forces said in a statement on Friday that a C-17 plane from the US air force had a day earlier flown over the Perija mountains in the western border state of Zulia for a short time.
The statement said the US "type C-17 heavy military transport" crossed into Venezuela's airspace for "a period of three minutes… making a journey of approximately 14 nautical miles."
The statement described the violation as a "flagrant provocation" that took place during a joint military exercise between the US and Colombia near Venezuela's Caribbean coastline.
"They are performing reconnaissance tasks on Venezuelan geophysical space, and thus we do not rule out other possible hostile actions that violate our sovereignty and territorial integrity," the Venezuelan armed forces said.
The statement underlined that Venezuelan President Nicolas Maduro "has issued precise orders to remain alert and respond forcefully to any act of aggression."
On July 16, the Colombian air force reported joint military training exercises with the United States "with the objective of improving interoperability with allied countries."
Venezuela has no diplomatic relations with the United States and Colombia, a country with which it shares a porous border of more than 2,200 kilometres.
Caracas's relations with Bogota and Washington have turned sour since the presidency of the late Hugo Chavez, but tensions escalated after the United States and Colombia recognized Venezuela's opposition figure Juan Guaido as president, rejecting Maduro's reelection in 2018 over accusations of vote fraud.
Maduro says Colombia, together with the United States, seeks to overthrow him, with Bogota and Washington having made no secret of that intention.
The Venezuelan leader has on multiple occasions held to task Colombia and its ally, the United States, for having plotted to eliminate him and his senior military officials since a long time ago.
Washington has also imposed several rounds of crippling sanctions against the oil-rich Latin American country aimed at ousting Maduro and replacing him with Guaido.
The sanctions, which include illegal confiscation of Venezuelan assets abroad and an economic blockade, have caused enormous suffering to millions of people in the country.