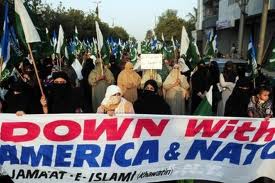 The ending year has seen many twists in the Islamabad-Washington relations, with anti-Americanism at its highest, particularly since US drone attacks became a routine on Pakistani soil, killing innocent civilians.
The already-strained relations between the two countries began to deteriorate since an American national and an undercover spy, Raymond Davis, killed two Pakistanis in the eastern Lahore city in January.
The incident led to widespread protests in Pakistan demanding action against Davis, who was later on released after Washington's rising pressure for his release.
This was the height of US violation of Pakistan's sovereignty that enraged Pakistan and further fuelled public hatred for US, instigating countrywide protest demonstrations. The incident triggered yet another crisis in the tortured US-Pak relationships.
The ties hit to the lowest when a NATO aircraft attacked on a Pakistani military post in North West Pakistan near Af-Pak border.
This prompted Islamabad to shut down all NATO supply lines to Afghanistan, ordered the CIA to vacate a Pakistani airbase it has used to launch drone strikes, boycotted a key moot – Bonn Conference- on Afghanistan in Germany and pulled out its officers from the liaison posts.
On 12 December the US lawmakers moved a bill to freeze US $700 million aid to Pakistan. The same day Pakistani envoys moot in Islamabad recommended revising Pak-US ties and reconsidering all pacts – covert or openly – that were previously sealed with Washington.
Pakistanis have held countrywide demonstrations against the US and NATO forces wherein they now want an immediate end to all ties with Washington.
After the NATO airstrikes on November 26, Pakistan-US relations have entered a new phase of unpredictability. The way the two countries handle the current crisis will determine how the immediate future will be shaped in context of what Pakistan calls blatant violation of its sovereignty by the US.