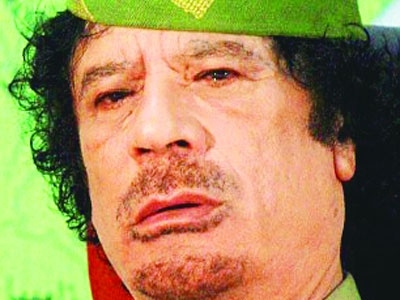 The diplomatic club… for a selective group of one and his entourage. It has all the trappings of wealth, Bronze statutes of horses, acres of once well manicured lawns, but it wasn't a club for ordinary
LIbyan's, rather a house belonging to one of Muammar Gaddafi's sons, Muhtesem.
A once grand entrance is now fire damaged. Marble floors give way to an entrance hall, full of pictures of demonic battles, sexual fantasy and a macabre perspective of the world.
It was found in its current state and its believed that Muhtesem tried to burn it when he fled south and out of Tripoli in a bid to cover up its contents.
A map left among the ruins and debris points to plans of further development of the site with a gym.
The paranoia that surrounded the Gaddafi family extended to their son's and daughters. state of the art bullet proof glass no longer protects it's former VIP owner.
But the fire didn't destroy Muhtesem's most prized possessions, among the countless private photo's of his extravagant holiday's and private life.
There was a pendant with occult markings and symbols on, two knives with satanic markings on the handles and a gold plated Desert Eagle handgun made in Israel. It is just another piece of the jigsaw into his darker and confused inner thoughts. For one visitor – the discovery left a mark….
With the Gaddafi family on the Run and the National Transitional council hunting down the countries missing money. The remnants left behind in Muhtesem's house, will hopefully lead to his arrest.