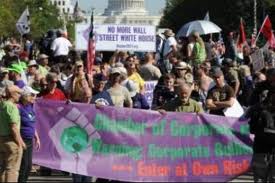 The National Day of Action began in the afternoon for Occupy Freedom Plaza.
Demonstrators hosted a group of union workers upset by high unemployment and low opportunities.
A jobs bill proposed by President Obama has failed to get traction in Congress–leaving the country in limbo to get Americans back to work.
The increasing frustration has intensified the Occupy movement which often holds meetings on current government failures.
Members of the two leading occupy movements in DC joined later in the day to address a number of grievances from education to restoring the nation's eroding infrastructure.
Dozens of cities across the country are participating in a national day of action. The people include union workers, activists and of course members of the occupy movement.
The timing is in accordance with the two-month anniversary of the occupy movement's start in New York's Wall Street.
New Yorkers are still getting reorganized after their main encampment was uprooted this week.
The national day of action was also a way to show that the protest movement still in its infancy stages continues to grow.
But Occupiers may be facing new challenges, protesters say mayors in cities with large Occupy groups have been communicating to discover new ways to evict protesters and remove encampments.