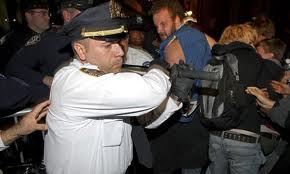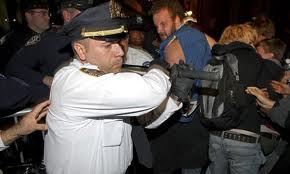 A new video footage in the US shows the use of violence against anti-Wall Street protesters in New York City, Press TV reported.
A New York police officer bashes away at protesters with a baton using it like a baseball bat and wielding it with both hands, as he swings at the demonstrators, the footage shows.
Protesters from the "Occupy Wall Street" movement who have been marching in New York for two and a half weeks had much more company on Wednesday. The group that had grown from 200 to 2,000 was joined by 100,000 more individuals as they gathered together for what they called a day of solidarity.
Anti-Wall Street protests have gained momentum across the US, including newer rallies in Washington DC, Chicago and Los Angeles.
The movement has also gained the support of several unions in the country, including the United Federation of Teachers and the Transport Workers Union with 38,000 members.
Students on college campuses added their voices with walkouts on Wednesday at some 75 universities throughout the US.
Occupations similar to that of New York, which are taking place all across the US, have a direct line of communication with the operation in New York – the model for this American awakening that represents a variety of causes.