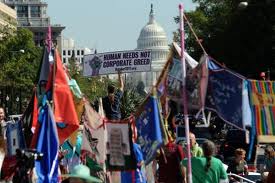 Occupy WashingtonDC teamed up the No FEAR Coalition, the National Whistleblower Center, and other groups to demonstrate against the US Environmental Protection Agency.
They laid wreaths at EPA's door to symbolize death and illness from asthma and other upper respiratory diseases. They say more people in the US will get sick and die as a result of the Obama Administrations' decision to delay smog regulations.
In October, facing fierce resistance from congressional Republicans and industry, President Obama took an about face — and abruptly pulled back proposed smog standards.
The new regulations would have compelled states and communities nationwide to reduce local air pollution or face federal penalties. Members of the business community launched an all-out public relations blitz saying the new rules would hurt the economy.
Protesters here and others say the US isn't putting people first. In May the Centers for Disease Control reported that from 2001–2009, nearly 25 million additional people were reported with asthma. And
asthma is a rising trend in black children.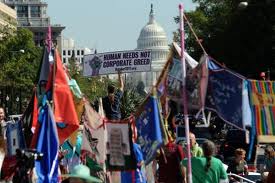 The Huffington Post reports Senator Barbara Boxer and Ben Cardin say if the US doesn't clean up it's air by 2020 , there will be an increase in acute heart attacks, asthma and premature deaths.
Dr. Marsha Coleman-Adebayo worked for the EPA for 18 years. She led the protests. Because she says she's upset the Environmental Protection Agency bowed to pressure from President Barack Obama to postpone changes to the Clean Air Act to protect Americans from smog and other dangerous pollution.
Adebayo says pollution control can be a job creator and leads to massive cost savings in health care.