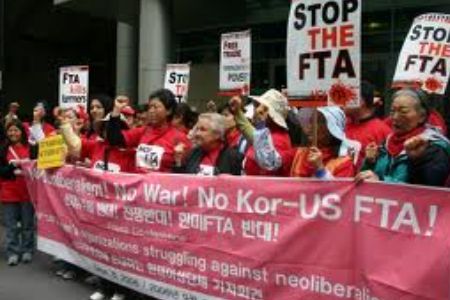 Over 200,000 protesters gathered in Seoul Plaza recently to oppose the South Korea-United States Free Trade Agreement.
It was one of the largest protests to date as more and more opposition groups become vocal about their contention of the deal.
In another protest outside of Seoul's main train station, nine thousand union workers also vocally opposed the agreement.
The protests against the deal are becoming not only more of a regular occurrence but also larger, as South Korea's National Assembly is also struggling to pass the bill after the United States ultimately ratified their side of the FTA in mid-October.
But opposition lawmakers have been making it physically impossible for the ruling party to enter the National Assembly. And reports now say that the ruling party is being more cautious about finalizing the deal for fear of alienating their support during next year's national elections. The opposition criticizes the FTA, saying that the United States will gain the most from the deal.
Analysts say that the legalities of the KORUS-FTA does favor the United States.
In a rare move President Lee Myung-bak visited parliament and met with opposition leaders to negotiate terms in finalizing the deal. This was Lee's first visit to parliament in three years, but the opposition is in no hurry to ratify the deal.