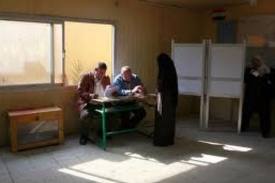 A low turnout of voters headed to polling stations on Thursday to cast their ballots on the last day of runoffs for the second stage of the first post-Mubarak parliamentary elections.
In this phase, 118 candidates from 9 different governorates are competing for 59 single-winner seats in the parliament. The Muslim Brotherhood's Freedom & Justice party are fielding 49 candidates and al-Nour Islamic party is fielding 36 while the liberal Free Egyptians party is fielding two candidates.
According to the results issued by the Supreme Judicial Elections commission, the Muslim Brotherhood's Freedom & Justice party won almost 37 percent of the votes while al-Nour's Islamic party have won around 25 percent of the votes. Voters believe that the upcoming parliament will truly represent the people of Egypt as they see it as the first free and fair elections since the down fall of Mubarak.
Also, voters hope that this round of the elections will conclude successfully in order to achieve stability and bring an end to the deadly unrest that has been ongoing for the past five days.
Monitors say that this stage has witnessed some violations including late opening of voting centers and illegal election day campaigning.
According to the official results of the first round, Islamic parties including the Muslim Brotherhood's Freedom & Justice party and al-Nour Party have dominated polls as they have won almost 70 percent of the votes.
Observers say, the three phase vote ending in January could give Islamic parties a popular mandate to challenge the country's ruling junta which has already been pushed by protesters and activists to hand power to elected civilians.