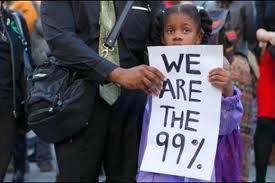 The Occupy Wall street movement took their cause to the front lines of the American housing crisis this week.
In 21 cities across the country including here in East New York, demonstrators stormed vacant homes foreclosed on by U.S Banks They're renovating this two story house seized by Bank of America three year ago and plan to give it to a family of four who have been homeless since being swept under by the current U.S. economic crisis.
Across the United States there are more than 2 million homes currently in some state of foreclosure. When home owners for one reason or another are unable to meet their mortgage payments and are then forced to leave their houses if the banks or mortgage companies choose to evict them.
During the worst drought in the U.S. housing crisis last year banks seized an average of more than 90 thousand homes a month. In many communities like this one in east New York families were hit with two punches losing their jobs then losing their homes. The crisis would spread to their community. As the home emptied out the value of the ones left behind plummeted.
Across America, the sight of boarded up and vacant houses has flooded the landscape. The empty structures are then often the target of vandalism or other forms of crime. Some residents in this community welcome the Occupy Wall Street movement's intentions for giving the space to those who need it.
But many critics say this is another example of the Occupy Wall street movement trying to get something for nothing. The Carassquillio family who plan to live here after the renovations, did not previously own this home. They also did not want to be interviewed by Press TV.
It's not clear how the Occupy Our Homes movement plans to keep authorities from evicting this new family from the home once the media attention dies down. But they say plan to retake more homes in the coming weeks to keep their message of inequality in the US housing crisis in the spotlight.