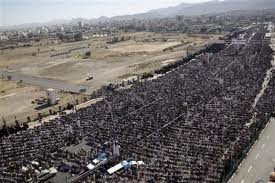 As Yemen parliament is about to vote on passing a law that gives Yemen Ali Abdullah Saleh immunity from prosecution, Tens of thousands of anti-government protesters have staged big demonstrations across the country calling for Saleh to stand trial.
Following Friday prayer, demonstrators chanted anti-government slogans confirming that they would not return back to their homes until they achieve their goals of a modern state that treats its citizens equally.
This comes as the Interior Minister has called on government forces to crack down on the March of life protesters. So far, a number or marchers were killed as they have approached the outskirts of Sana'a.
It has been reported that several protesters in the march were injured when they were attacked by Saleh's loyalists in the outskirts of Dhamar city.
In his first conference, Information Minister of coalition government called on all political parties to work for the interest of the nation and urged donor countries to help Yemen during what he described Yemen's most critical stage.
On a day dubbed March of life, protesters vowed to continue their protests until they achieve all the revolutionary goals, top of which is the prosecution of Saleh and his key assistants for what they describe looting the wealth of the nation and killing peaceful demonstrators.