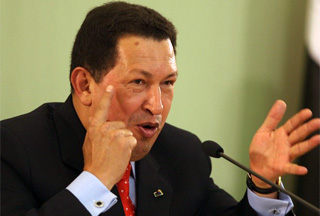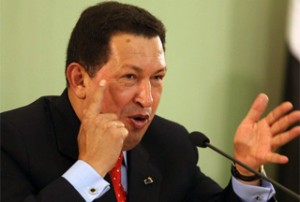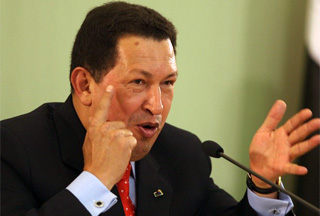 The Venezuelan president, who arrived in Tehran early Saturday, says Iran 'will not back down' in its plans for peaceful nuclear energy.
"We are certain that Iran, as it has shown, will not back down in its effort to obtain what is a sovereign right of the people: to have all the equipment and structures to use atomic energy for peaceful purposes," Chavez said after his arrival in the Iranian capital.
"There is not a single proof that Iran is building … a nuclear bomb," Chavez said. "Soon they will accuse us of also building an atomic bomb" in Venezuela, he added.
Iran has categorically denied Western allegations that it is seeking nuclear weapons and has called for the removal of all weapons of mass destruction across the globe.
In its latest efforts to resolve the nuclear issue, Iran will present an updated version of its proposed nuclear package to the world powers next week. Tehran has also said it is ready for 'fresh talks' with the West.
Chavez also said that Caracas aims to build a 'nuclear village' with Iranian assistance in Venezuela.
In his seventh official visit to Iran, Chavez is scheduled to meet his Iranian counterpart Mahmoud Ahmadinejad later Saturday.
The Venezuelan president visited Libya, Algeria and Syria before coming to Iran. He is also scheduled to go to Belarus, Russia, Turkmenistan and Spain after his visit to Iran.