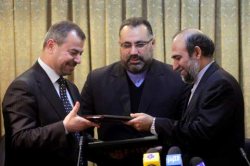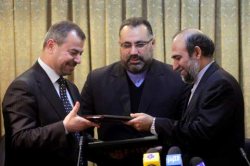 Vice-President for Management and Human Resources Development Litfollah Forozandeh Dehkordi said on Tuesday that Iranian government and nation have firm determination to assist the Iraqi people.
He made the remarks in a meeting with Iraqi Minister of Programming Ali Yusef al-Shokri to sign an agreement on cooperation on administrative affairs.
Forozandeh said the agreement will undoubtedly lead to deepening of the two countries ties and facilitating the development process in Iraq.
"Iranian nation reached great achievements in the field of welfare, justice and service providing to people and is ready to offer the experiences with the brotherly Iraqi nation in order to help them pave the way for development," he said.
The vice-president said Iran and Iraq are two neighboring Muslim countries, both of which suffered from the world arrogance but Iranians enjoy 30 years experience of independence and reconstruction.
"Our Iraqi brothers and sisters have just started the reconstruction process in their county. Therefore, we feel religious duty to help them in this momentous period,' Foroozandeh said.
Al-Shokri expressed pleasure with outcome of his meeting with Iranian officials and said Iran and Iraq share historical common grounds, therefore they have to deepen and consolidate their relations.
He said, 'Our mutual relations are laid on the mutual interests, hence Iraq needs to reconstruct its human resources and train expert and specialized cadres after three decades of keeping the countries doors closed to world countries.'