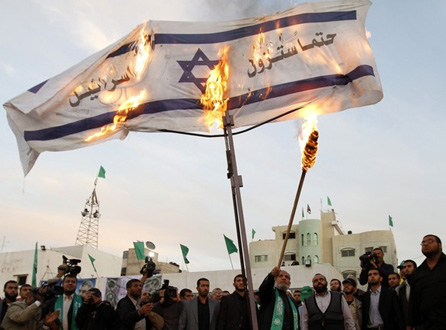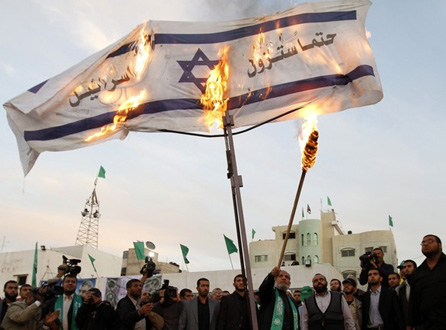 Palestinians will achieve a historic triumph in any future confrontation with Israel, but the toll will be heavy on the Palestinian side, senior Hamas leader Mahmoud Zahhar said Saturday.
"We are only a few steps away from achieving a historic triumph which might cost us a large number of our children. However, in the coming confrontation with the Zionist entity, we will realize our ancestors' dream and return history to the right track," Zahhar said
The Hamas official made the comments at a ceremony held to commemorate the second anniversary of a massacre at the UN-controlled Al-Fakhoura school in Jabalia in the northern Gaza Strip.
The school was bombarded by Israeli forces during Operation Cast Lead, a three-week offensive that began in December 2008.
The Hamas leader was optimistic that justice would be achieved for Palestinians.
"In a few years only, you will see the world abandoning those who committed crimes against humanity. The whole world around us realizes that it is a compound crime as they want to divide Sudan, Iraq, and Egypt and plan to divide the whole world," Zahhar said.
Gaza's Interior Minister Fathi Hammad attended the commemoration along with several Hamas leaders and lawmakers.
Abdullah Baroud, a child who was injured in the attack on Al-Fakhoura school, delivered a speech describing how he and his friends had suffered. He questioned why Israeli leaders who "committed crimes against innocent Palestinian children were not punished for what they did."
A pupil of the school Bushra Dawood recited a poem describing how painful it was for the students whose friends and classmates were killed in the massacre.
Muhammad Abu Askra, who lost two sons and two brothers in the attack, spoke on behalf of the victims' families.
He maintained that Israeli leaders who were responsible for the school massacre should be tried before international courts.
"How long will the world remain silent before Israeli crimes against the people of the Gaza Strip? Why does the second anniversary go before those criminals are put to justice?" he asked.