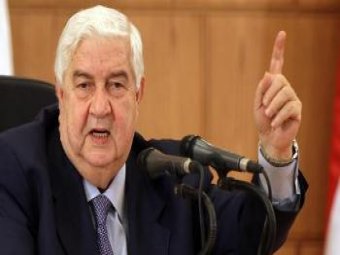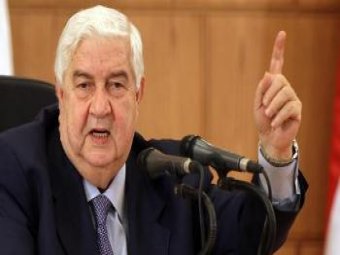 The Syrian Foreign minister Walid al-Mualem holds a news conference talking about the recent events.
This conference comes after the escalation that followed their defeat in al-Qusair
Al-Muallem says "About Geneva we have announced our intention to participate in the conference and we are serious about this decision because we find in the international meeting as a real opportunity that should not to be missed, we will go to the conference in all seriousness in order to stop the violence and terrorism which is a popular demand and occupy the top priority for the Syrians. We will test the ability of the interlocutors to impose a cessation of violence on the ground."
Al-Muallem says that "we will go to Geneva only to test the seriousness of the conspirators to cease arming the terrorism," stressing that "we will not hand over the power but we will establish real partnership through the national unity."
He adds that "after retaking al-Qusair, Fabius has talked about the rebalance, meanwhile, Obama has talked about the decision to arm the opposition and the alleged use of the chemical weapon, and we 'in Syria' have not announced any day obtaining chemical weapon or not, but we had raised doubts about why the U.S. president uses fabricated information, so we concluded that his decision of arming the opposition does not unpopular where opinion polls have confirmed that most of the Americans do not support the reinforcement, not out of love the Syrian people love but out of fear of the return of the terrorists."
Al-Muallem adds That perhaps the use of chemical weapons lie makes it popular for arming the opposition's decision but we say that this is a lie, and when the nerve gas was used in Khan al-Assal, we demanded the United Nations to send a commission of inquiry and provided logistical facilities but the intervention countries such as Qatar, France and Britain fail. We have the documentation for terrorist use of chemical Russian friends assured us credibility
Al-Muallem says that "all the reports refers to al-Nusra Front's control over the Syrian opposition and by that the Wests' supplies will go to al-Nusra Front. I call them to watch what al-Nusra Front is doing from eating the human organics.
We say that what al-Duha have decided is dangerous because it extends the life of the crisis and encourage the terrorism and they hinder Geneva and the political solution and they help to kill more Syrians.