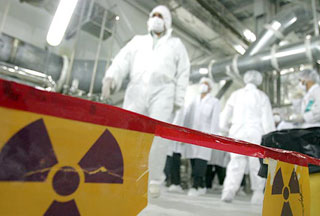 Representatives from the six world powers plan to discuss the Iranian nuclear issue by telephone on December 22, a US official says.
"We expect there will be a conference call next week, probably Tuesday. I don't think that's set, but it's our expectation," AFP quoted a US State Department official as saying on condition of anonymity on Wednesday.
According to the news agency, the phone conversation will involve the political directors of the US State Department and the foreign ministries of Russia, China, France, Britain and Germany, also known as the P5+1.
Iran, a signatory to the Nuclear Non-Proliferation Treaty (NPT), says its nuclear activities are aimed at the civilian applications of the technology.
The Islamic Republic, however, faces pressure to halt its nuclear enrichment as world powers claim the program is aimed at building an atom bomb.
Tehran says nuclear weapons have no place in its defensive doctrine and has called for the removal of all weapons of mass destruction from across the globe.
Iran's nuclear activities has been under close inspection of the International Atomic Energy Agency (IAEA), which has confirmed the civilian nature of the program.