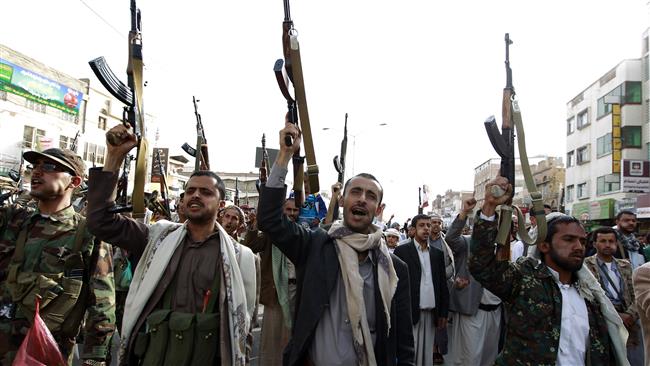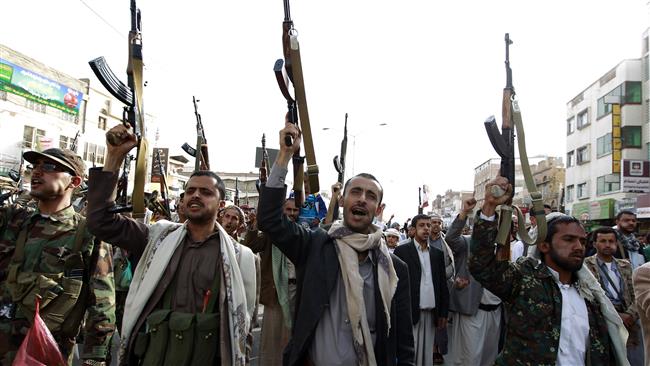 Yemeni army forces coupled with fighters from Popular Committees have managed to drive al-Qaeda terrorists out of a military base in in the central Yemeni province of Ma'rib amid ongoing Saudi airstrikes.
On Monday, Yemeni troopers and allied forces expelled the extremists from the base in the province's northwestern district of al-Suhail, located more than 120 kilometers (74 miles) east of the capital, Sana'a, after firing a barrage of mortar shells at the military site, Arabic-language al-Masirah satellite television network reported.
The report added that the Yemeni forces are now heading toward another military base in Nakhla district, which lies north of the provincial capital of Ma'rib, to purge it of Takfiri militants.
A Yemeni Houthi Ansarullah fighter said members of his force and fighters from Popular Committees will spare no effort to cleanse Yemen of Takfiris.
Yemeni supporters of the Houthi Ansarullah movement raise their weapons during a rally in the capital, Sana'a, on June 14, 2015, against Saudi airstrikes. (© AFP)
Also on Monday, fierce clashes broke out between members of Popular Committees and al-Qaeda-affiliated militants loyal to Yemen's fugitive former President Abd Rabbuh Mansour Hadi north of the city of Taiz, situated 260 kilometers (166 miles) south of the capital. There were no immediate reports of casualties.
Meanwhile, Saudi military aircraft pushed ahead with Riyadh's military campaign against its impoverished southern neighbor, and carried out several aerial assaults across Yemen.
Saudi warplanes bombarded a number of houses in Baqim district of the northwestern Yemeni province of Sa'ada.
Five civilians lost their lives as Saudi soldiers also lobbed a number of rockets at Razih district of the arid and mountainous province.
According to official figures, Sunday's attacks killed 18 people and wounded dozens more in al-Hazm city, the capital of Yemen's northern province of al-Jawf.
Yemenis search for survivors under the rubble of houses in the UNESCO-listed heritage site of the Yemeni capital, Sana'a, on June 12, 2015 following an overnight Saudi airstrike. (© AFP)
Saudi warplanes also targeted residential areas south of the Yemeni southwestern province of Ta'izz, killing 17 people, including five women.
Saudi Arabia launched its military aggression against Yemen on March 26 – without a UN mandate – in a bid to undermine the Houthi revolutionaries and bring Hadi, who is a staunch ally of Al Saudi regime, back to power.
At least 2,300 people have been killed and 7,300 others wounded due to the conflict in the impoverished Arab country since March 19, according to the United Nations. However, Yemeni sources put the death toll at over 4,300.