Yemen
Yemen protesters demand trial of Saleh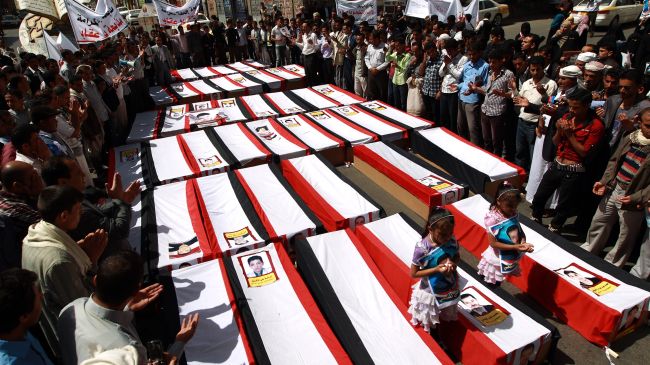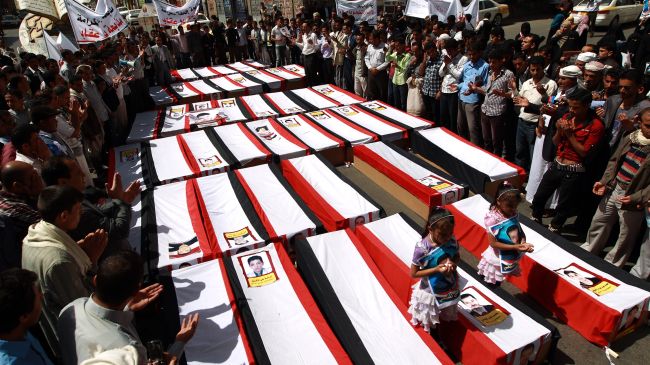 People have taken to streets of the Yemeni capital Sana'a to demand the trial of the country's former dictator Ali Abdullah Saleh.
On Tuesday, hundreds of Yemeni protesters staged a demonstration at Change square, the epicenter of the anti-regime protests, on the anniversary of the 2011 killing of at least 45 protesters.
The demonstrators, who were holding up symbolic coffins, chanted "no immunity for the killers" and "Saleh and his aides should be put on trial."
The protesters read out a statement at the event, which had been organized by the Youth Revolutionary Council.
The statement called for the sacking of attorney general Ahmed al-Awash, a Saleh appointee, for covering up for the perpetrators of the attack.
Saleh, who ruled Yemen for 33 years, stepped down in February 2012 under a US-backed power transfer deal in return for immunity, after a year of mass street demonstrations demanding his ouster.
Meanwhile, rights group Amnesty International called for revoking the immunity granted to Saleh.
"The immunity law is totally unacceptable and must be revoked immediately. Effectively it allows anyone guilty of human rights violations associated with the previous government to walk free," said Philip Luther, Amnesty International's director for the Middle East and North Africa.
Luther slammed Yemeni President Abd Rabbuh Mansur Hadi for not keeping his promises about setting up an independent investigation into the attack.
"By dragging their feet over ensuring a full and impartial investigation into these deaths, Yemen's authorities are sending a disturbing message that justice and accountability are not a priority for them," Luther said.
"But sustainable reform cannot be achieved without justice for victims and their families. If the government wishes to prove that it is serious about human rights, they must tackle entrenched impunity," he added.
According to Human Rights Watch, on March 18, 2011, dubbed the "Friday of Dignity," 45 protesters were shot dead by gunmen loyal to Saleh and 200 others were injured in just three hours.
The Yemeni people regularly stage protest rallies, demanding that the former regime officials stand trial.
Yemen is the Arab world's poorest country. Forty percent of the people of Yemen are living on two US dollars a day or less and one third are wrestling with chronic hunger.