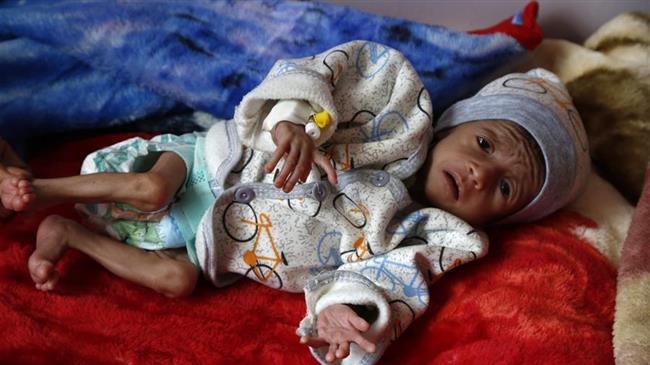 The spokesman for Yemen's Houthi Ansarullah movement says the US administration is not sincere in its calls for the restoration of peace to the country, stressing that Washington must make the Saudi-led invaders end their aggression and siege against Yemen to set the stage for a real political process.
"It is unacceptable for [the United States of] America to chant the slogan of human rights and express concern over the worsening humanitarian conditions in Yemen as a result of the [Saudi-led] aggression and siege, and then make that (humanitarian issues) subject to military and political bargaining," Mohammed Abdul-Salam wrote in a post published on his Twitter page on Monday
He was responding to US Secretary of State Antony Blinken's comments on supporting what he described as a Yemen free from foreign influence.
During a phone conversation with the UN's Yemen envoy Martin Griffiths, Blinken claimed that "the United States supports a unified, stable Yemen free from foreign influence, and that there is no military solution to the conflict," according to the US Department of State.
Washington plans to "reinvigorate diplomatic efforts" to end the war in Yemen, he said.
Abdul-Salam said a political process can achieve success only when it is free from coercion, adding, "We know the US is well aware of what can [truly] contribute to the restoration of peace in Yemen," but its misleading and unwise statements show Washington does not want such a thing to happen.
The Ansarullah spokesman said "our position is defensive. The US must first oblige aggressors to stop their aggression and lift the blockade against Yemen" in order to set the stage for a real political process.
Ansarullah sends peace plan to US envoy
Moreover, Mohammed Ali al-Houthi, a member of Yemen's Supreme Political Council, tweeted on Monday that the Ansarullah movement had presented its own vision plan for the cessation of hostilities in the war-torn country to US Special Envoy for Yemen Tim Lenderking.
"We are only demanding an end to the [Saudi-led] aggression, and removal of the blockade. We are not opposed to ceasefire and do not refuse any such bids," he said.
"We are actually confronting an all-out aggression against our country, besides occupation and siege by a coalition which is waging a war, invading our country and besieging our nation," Houthi added.
The senior Yemeni official noted that Ansarullah has submitted a plan for a nationwide ceasefire in Yemen, through Griffiths, to Lenderking.
The US special envoy for Yemen on Friday said during a webinar with the Atlantic Council think tank that Houthis are a "significant player" in Yemen and that needs to be acknowledged.
"I don't think you can operate by denying that reality," he said, adding that the US "never said the Houthis have no role in Yemen."
Lenderking, who recently returned from a three-week trip to the region, said Washington is looking for the Ansarullah's response to its peace plan, but claimed that Ansarullah does not appear interested in a ceasefire at this moment, and is supposedly prioritizing a military campaign to take the strategic central province of Ma'rib.
"I will return immediately when the Houthis are prepared to talk," Lenderking said.
UAE brings in foreign experts to Yemen's Socotra island to explore for oil, gas
Separately, the United Arab Emirates (UAE) has reportedly brought in a group of foreign experts to the strategic island of Socotra to assess the natural resources there.
An informed source, speaking on condition of anonymity, told the Yemeni Press Agency that the experts come from Pakistan, India and Egypt, and they are exploring for oil and gas reserves on the island, besides rich fishing grounds surrounding the island.
Home to some 60,000 people, Socotra overlooks the Bab al-Mandab Strait, a main shipping route that connects the Red Sea to the Gulf of Aden and the Arabian Sea. It has a unique ecosystem.
Socotra has been a source of tension between the UAE and Saudi Arabia, which have been vying for control of the resource-rich island.
Last June, UAE-backed separatists of the so-called Southern Transitional Council (STC) took control of Socotra in a move described by the administration of Yemen's former president Abd Rabbuh Mansur Hadi as "a full-fledged coup."
The French-language news outlet JForum said in a report last August that Israel, in cooperation with the UAE, was planning to build intelligence-gathering bases on the Socotra island.
The purpose of the bases, according to the report, is to electronically monitor Saudi-led forces waging a war on Yemen.
Israel and the UAE are currently making all logistical preparations to establish intelligence bases to collect information from across the Gulf of Eden, including Bab al-Mandab and south of Yemen, which is under the control of forces backed by the UAE, the report said.
Yemen launches drone attack on Saudi Arabia's King Khalid Air Base
Meanwhile, Yemen's military said it had launched yet another successful drone attack against King Khalid Air Base in southwestern Saudi Arabia in retaliation for the Riyadh regime's ongoing military aggression and blockade against the crisis-hit impoverished country.
Spokesman for the Yemeni Armed Forces Brigadier General Yahya Saree said on Tuesday that army troops and allied fighters from Popular Committees had carried out a strike against King Khalid Air Base, which is located near the city of Khamis Mushait, Yemen's Masirah television network reported.
He added that designated targets inside the air base had been successfully hit with a domestically-developed Qasef-2k (Striker-2k) combat drone.
Saree said the airstrike falls within Yemen's legitimate right to respond to the Saudi-led coalition's air raids as well as its continued all-out siege against Yemeni people.
A day earlier, Yemeni armed forces, backed by allied fighters from Popular Committees, had fired two domestically-developed ballistic missiles towards the southern Saudi city of Khamis Mushait.
Saudi Arabia's state-run al-Ekhbariya television news network, citing a statement issued by the Saudi-led coalition fighting in Yemen, claimed that the missiles landed in uninhabited border areas.
The coalition early on Tuesday said it had also intercepted an explosive drone flown towards Khamis Mushait.
Backed by the US and a number of other Western states, Saudi Arabia and a number of its regional allies launched the war on Yemen in March 2015, with the goal of bringing Hadi's government back to power and crushing the popular Ansarullah movement.
The Yemeni armed forces and allied popular groups have, however, gone from strength to strength against the Saudi-led invaders, and left Riyadh and its allies bogged down in the country.