Yemen
Middle East
North America
Yemeni air defense forces down another US-built ScanEagle spy drone
Yemeni forces have intercepted and targeted a second US-built Boeing Insitu ScanEagle spy drone in as many days. The drone, operated by the Saudi-led military coalition, was downed while flying above the central province of Ma'rib.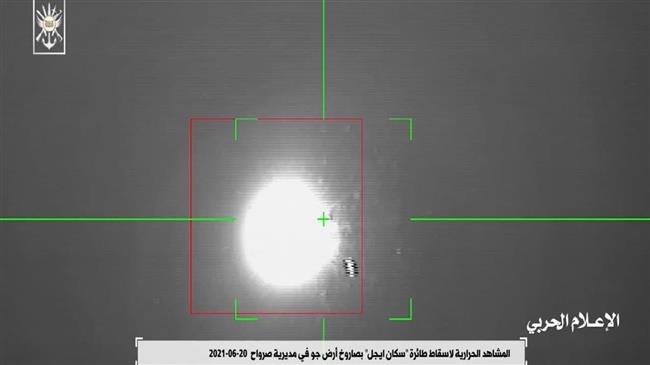 The spokesman for the Yemeni Armed Forces, Brigadier General Yahya Saree, said in a post published on his Twitter page on Tuesday that Yemeni air defense forces had used a domestically-developed surface-to-air missile to shoot down the unmanned aerial vehicle that was on an espionage mission in the skies of al-Mushajah area in the Sirwah district.
The Boeing Insitu ScanEagle is a small, long-endurance, low-altitude unmanned aerial vehicle (UAV) built by Insitu, a subsidiary of Boeing, and is used for reconnaissance.
A day earlier, the media bureau of Yemen's popular Ansarullah resistance movement released a video of Yemeni air defense forces intercepting and shooting down the same type of unmanned aerial vehicle with a surface-to-air missile over the Sirwah district.
'Yemeni nation will not accept peace accords while siege continues'
Meanwhile, Yemeni Foreign Minister Hisham Sharaf Abdullah said his compatriots would not accept a peace agreement with the Saudi-led coalition as long as its brutal siege against the crisis-stricken Arab country remained in place.
"The Yemeni people cannot accept truce and peace deals in light of the continuous blockade, which is being enforced by the Riyadh and Abu Dhabi regimes under the supervision of London and Washington," Lebanon-based and Arabic-language al-Mayadeen television news network quoted him as saying.
He added, "Our arms are yet wide open to honorable and just peace, which would take the interests and dignity of Yemenis into account."
Sharaf Abdullah said, "Yemen's steadfastness and resilience on political, military and social fronts have thwarted all international bids in favor of the coalition of aggression, its crimes and siege."
The top Yemeni diplomat went on to say that attempts are underway to depict Saudi Arabia as a mediator and to absolve its responsibility for the onslaught on Yemen and its dire consequences over the past 7 years.
Sharaf Abdullah underscored that humanitarian issues must not be politicized, and that the Yemeni nation is entitled to unhindered access to airports, ports, foodstuff, medicine and oil derivatives.
Saudi Arabia, backed by the US and regional allies, launched a devastating war on Yemen in March 2015, with the goal of bringing the government of former Yemeni president Abd Rabbuh Mansur Hadi back to power and crushing Ansarullah.
Yemeni armed forces and allied Popular Committees have, however, gone from strength to strength against the Saudi-led invaders, and left Riyadh and its allies bogged down in the country.
The Saudi war has left hundreds of thousands of Yemenis dead, and displaced millions more. The war has also destroyed Yemen's infrastructure and spread famine and infectious diseases across the country.