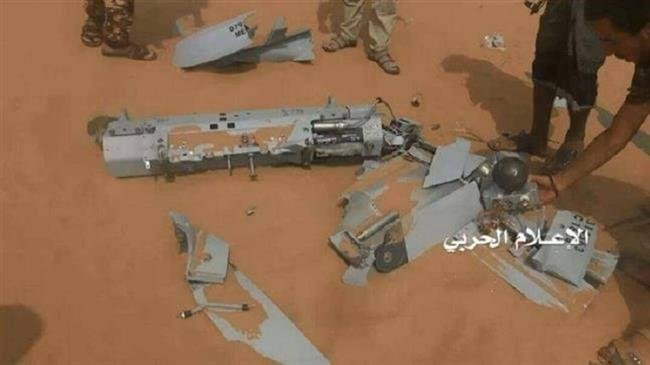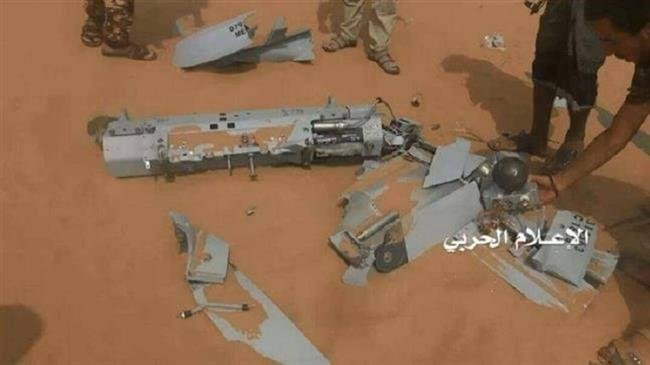 The Yemeni army has shot down a Saudi unmanned aerial vehicle (UAV) as it was on a reconnaissance mission in Yemen's western coastal province of Hudaydah.
Yemen's Arabic-language al-Masirah satellite television network, citing a military source, reported that the "big" drone was shot down as it was flying in the skies north east of Durayhimi district in the province on Monday.
The report added that another Saudi spy drone had also been intercepted and shot down by Yemeni forces as it was flying in skies of border areas of Saudi Arabia's southwestern region of Jizan early on Saturday.
Yemeni army forces, backed by allied fighters from Popular Committees and fighters from the Houthi Ansarullah movement, have so far managed to shoot down over a dozen Saudi drones over the Yemeni territories and in the skies of border areas of Saudi southern provinces.
Leading a coalition of its allies, including the United Arab Emirates, Morocco, and Sudan, Saudi Arabia invaded Yemen in March 2015 in an attempt to reinstall a former Riyadh-friendly regime, which had resigned amid popular discontent, and to crush the country's popular Houthi Ansarullah movement, which has played a significant role, alongside the Yemeni army, in defending the nation and has been running state affairs in the absence of an effective government.
The aggression initially consisted of a bombing campaign, but was later coupled with a naval blockade and the deployment of ground forces to Yemen. More than 15,000 Yemenis have so far been killed and thousands more wounded.
The Saudi-led war has also taken a heavy toll on the country's infrastructure, destroying hospitals, schools, and factories. The UN has already said that a record 22.2 million Yemenis are in dire need of food, including 8.4 million threatened by severe hunger. According to the world body, Yemen is suffering from the most severe famine in more than 100 years.
More than three and a half years into that war, Saudi Arabia has achieved neither of its objectives. This is while it had declared at the start of the invasion that the war would take no more than a couple of weeks.