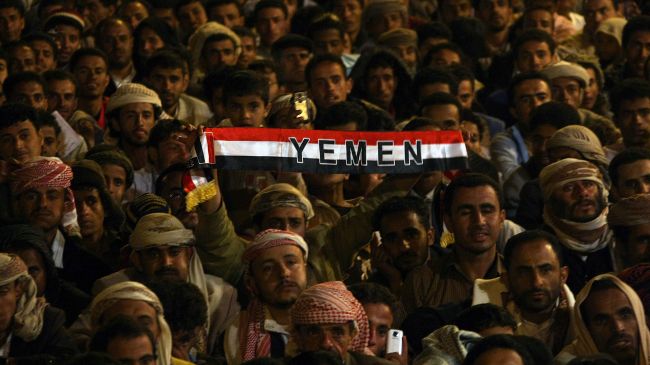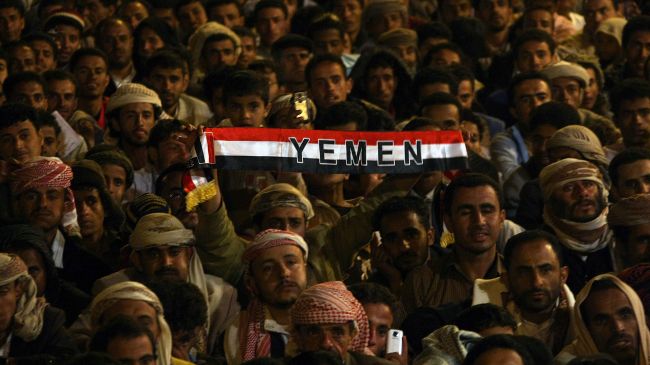 Yemeni demonstrators have taken to the streets in the capital Sana'a and the southern city of Taizz to mark the first anniversary of "Day of Dignity," Press TV reports.
Demonstrators also gathered in several other towns and cities, including the southern city of Ibb, on Sunday.
Day of Dignity marks March 18, 2011, when snipers loyal to the regime of former Yemeni dictator Ali Abdullah Saleh killed about 60 protesters in Taizz.
Yemeni protesters on Sunday demanded the prosecution of Saleh and his aides over the killing of peaceful demonstrators during the popular anti-regime uprising that began in late January 2011. Demonstrators also called for the reconstruction of the Yemeni army.
Saleh formally stepped down and handed power over to President Abdrabuh Mansur Hadi on February 27. The power transfer was under a Saudi-backed deal brokered by the (Persian) Gulf Cooperation Council in April last year and signed by Saleh in the Saudi capital, Riyadh, on November 23, 2011.
Hadi, who is a UK-trained field marshal, was sworn in as the new president on February 25 following a single-candidate presidential election on February 21 that was backed by the United States and Saudi Arabia. He will serve for an interim two-year period as stipulated by the power transfer deal.