Yemen
Yemeni police kill 10 Houthi protesters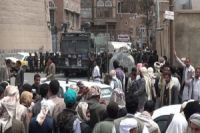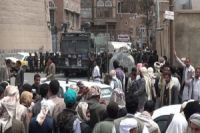 A senior Yemeni security official says the Yemeni police have killed at least 10 Shia Houthi protesters and injured dozens others at a demonstration in the capital Sana'a.
On Sunday, the Houthis demonstrated outside the headquarters of the country's internal security service — the National Security Bureau (NSB) — that has been accused of human rights abuses.
They demanded the disbanding of the NSB because of its involvement in suppression of political activists under ousted dictator Ali Abdullah Saleh.
The protesters were also demanding the release of the Houthis being held by the authorities.
According to the security official, 10 protesters were killed, 38 wounded and 87 others detained by the police.
Yemen's Shia Houthi movement draws its name from the tribe of its founding leader Hussein Badreddin al-Houthi.
The Houthis, who control parts of the north and are engaged in reconciliation talks with Sana'a, accuse the government of violating their civil rights and marginalizing them politically, economically, and religiously.