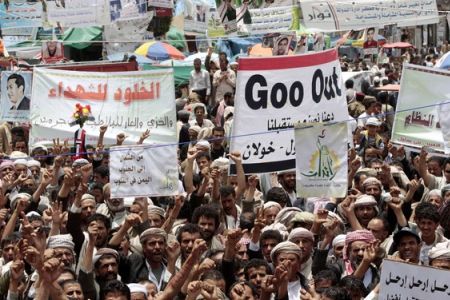 Tens of thousands of Yemenis have taken to the streets in the capital, demanding an end to US and Saudi interference in their country's internal affairs.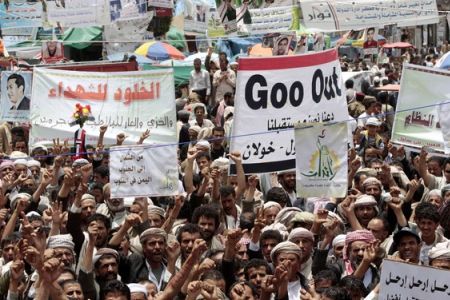 Carrying banners reading "Saudis and Americans, keep out of Yemen's affairs," anti-government revolutionaries on Friday rejected Yemen's dependence on the US and Saudi Arabia, saying that their interference in Yemeni affairs would only lead to more instability in the country.
Revolutionaries also called for the immediate resignation of Ali Abdullah Saleh and the formation of a transitional council to rule the country and to prevent Saleh from returning to power.
Similar anti-Saleh demonstrations were also held in the southern city of Taizz.
This Friday's demonstrations came after Yemen's long-time dictator, Saleh, appeared on state TV for the first time since he was injured in an attack on his palace last month.
During his brief address on Thursday, Saleh gave no indication that he plans to step down in spite of almost daily anti-regime protests across the country and international pressure on him to resign.
Instead, he once again invited opposition parties to negotiation, saying that dialogue was needed to resolve Yemen's problems. He also welcomed power sharing but stressed that it should be "within the framework of the constitution."
"We are not against participation, we are for participation with all political powers, whether they are in opposition or ruling, but in the light of a program which the people agree upon," he said during his pre-recorded speech which lasted only a few minutes.
Saleh, who is currently in Saudi Arabia for treatment, made no mention of any plans to return to Yemen. He admitted that he had undergone "more than eight successful operations."
Yemeni revolutionaries, however, say Saleh was "politically dead" after his TV appearance.
Meanwhile, the opposition believes that the televised address was meant to boost the morale of Saleh loyalists.
"Saleh's appearance was meant to boost his loyalists' morale and to pressure the opposition to accept his son and relatives in political life in Yemen," Mohammed al-Asal, a member of the youth revolt's information committee, told AFP.