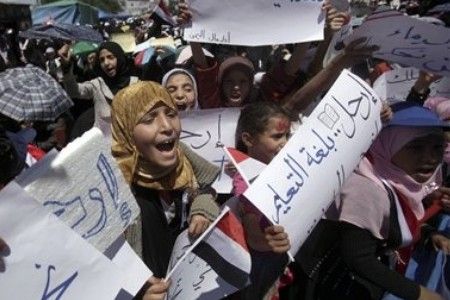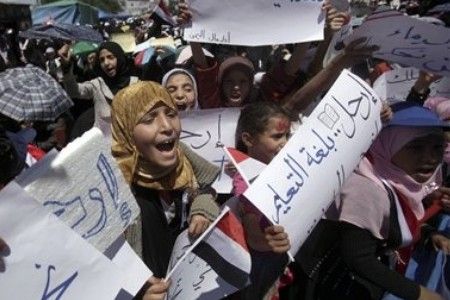 A Yemeni schoolboy has been reportedly shot dead after security forces opened fire on anti-government protesters in the southeastern city of Mukalla.
The incident took place on Saturday when the student participated in the protest demanding an end to President Ali Abdullah Saleh's 32-year rule, a Press TV correspondent reported.
The death toll of Saturday's protests reached two after security forces killed another protester in a similar demonstration in the capital Sana'a on the same day.
Hundreds of school students on Saturday poured to streets of Mukalla to demand the resignation of the Yemeni embattled president. Riot police used live bullets in an attempt to disperse anti-regime demonstrators.
In Sana'a, police also fired live rounds and tear gas grenades on anti-government protesters and killed at least one demonstrator and injured 300 others.
The protesters, camping out in a square near the university since February 21, are calling for the resignation of the decades-long president.
The fresh violence came a day after at least two protesters were killed by Yemeni security forces in the southern city of Aden.
Eighteen others were also wounded after security forces used tear gas and live bullets to disperse thousands of anti-government protesters demanding democratic change and marching towards Aden's Khor Maksar neighborhood, where foreign consulates are located.
Anti-government protesters in Yemen demand the ouster of President Saleh, who has ruled the country since 1978.
The deadly crackdown on peaceful demonstrations came after the embattled Yemeni president promised to protect the demonstrators on Thursday.
"We have ordered the security forces to continue to provide protection for all the protesters, whether they are supporters of our legitimacy or from the opposition," Saleh said.
After weeks of nationwide protests, the Yemeni president bowed to pressure from the opposition and announced plans to change the constitution to move to a parliamentary system.
He also said a national unity government would be formed by the end of 2011 to oversee the process of constitutional reform.
The opposition, however, described the measures as too late, saying the demands of the protesters were "bigger than that."
Since the beginning of anti-Saleh demonstrations, dozens of protesters have been killed and hundreds of others left injured in clashes with security forces or supporters of Saleh, who are armed with knives and batons.