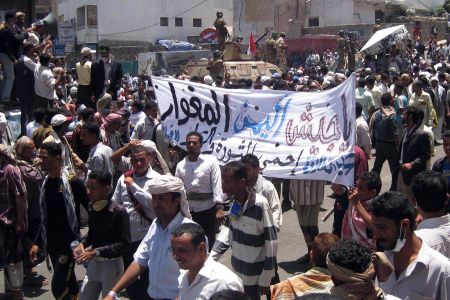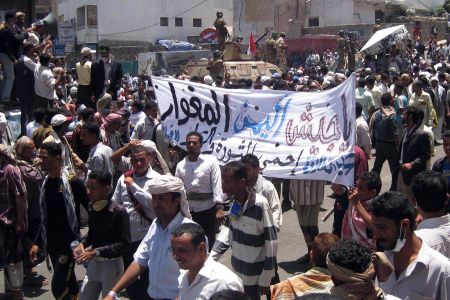 Hundreds of thousands of anti-government protesters have poured into the streets in major Yemeni cities, defying a brutal government-led crackdown.
In the capital Sana'a, protesters gathered at Change Square on Wednesday and called for the ouster of despotic President Ali Abdullah Saleh.
The protesters also urged foreign countries to convince Saleh to end his three-decade long grip on power.
"We welcome any initiative or any invitation for Ali Abdullah to leave from any foreign or Arab country, but under the condition that includes the departure of Ali Abdullah Saleh as well as changing the whole regime because it's a corrupt one," AP quoted Khaled Abdul Karim, one of the protesters, as saying.
There were no immediate reports of confrontation between forces loyal to the embattled president and anti-government protesters in the capital.
On Tuesday, at least three people were killed and 15 others were injured after pro-Saleh tribesmen clashed with soldiers backing anti-government protesters in Sana'a.
Massive anti-government protest rallies were also held on Wednesday in the southern city of Taiz, where security forces shot in the air to try to disperse the crowd. There were no reports of casualties.
Taiz demonstrations came hours after Yemeni security forces shot dead one more protester in the city, which was the scene of a deadly crackdown on Monday.
Reports coming from Taiz say Yemeni security forces have surrounded presidential palace and government buildings in the city.
Similar protest rallies were also held in the cities of Aden and Hudaydah.
Since late January, hundreds of thousands of people have turned out for regular demonstrations in main Yemeni cities calling for corruption and unemployment to be tackled and demanding President Ali Abdullah Saleh step down.
The protests have been met by riot police or supporters of President Saleh armed with knives and batons.
Saleh has said he will not seek another term in office in 2013 but has vowed to defend his regime "with every drop of blood."
According to local reports, at least 300 people have been killed and many others injured since the beginning of anti-Saleh demonstrations in the country.