Iran
Middle East
Saudi Arabia
Yemen
Yemen's Ansarullah Can Totally Change War Equation: IRGC Commander
Islamic Revolution Guards Corps (IRGC) Commander Major General Hossein Salami hailed the military capabilities of Yemen's Houthi Ansarullah and said the movement is a great source of power that can totally change the war equation.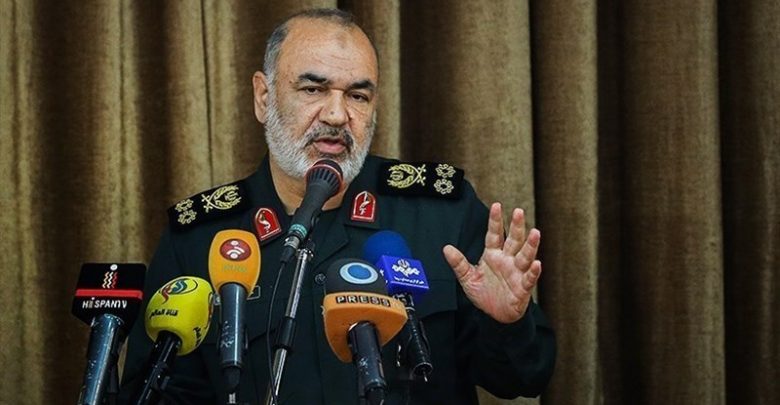 Addressing a ceremony on Wednesday on the occasion of the Sacred Defense Week, which marks the anniversary of the onset of the 1980-1988 Iraqi imposed war on Iran, Major General Salami pointed to the Western allegations that Iran is behind Yemen's recent attacks on Saudi oil facilities and said, "Our power is such that when a group like Ansarullah carries out an operation, the enemy thinks it has been done by us."
"Ansarullah is a mutated branch of the (Islamic) Revolution," he said, adding, "Today, they are an accumulated source of power that, if released, will change the whole battlefield and the enemy knows this reality."
The IRGC commander further rejected the allegations and emphasized that Iran has no fear of the enemy and would have said it bravely if it had carried out the attacks.
"Did we not say (we had downed) the (US) drone?" he asked, referring to the IRGC move to shoot down an American spy drone that had violated the Iranian territories.
The remarks came as the leaders of Germany, France, and the United Kingdom, Angela Merkel, Emmanuel Macron, and Boris Johnson, took the US line on the attacks on Saudi oil facilities, saying in a joint statement after meeting on the sidelines of the UN General Assembly, "It is clear for us that Iran bears responsibility for this attack. There is no other explanation."
In response, the Iranian Foreign Ministry said, "The Islamic Republic of Iran strongly condemns and dismisses the irresponsible claims made by the heads of Britain, France and Germany about the attacks by the Yemeni government's Armed Forces on the Saudi (oil) facilities, and stresses that holding a third-party government accountable for strikes that have occurred during a full-blown war between the Saudi and Yemeni parties and for which the Yemeni side has formally claimed responsibility, is per se a provocative and highly destructive measure, let alone that such a measure has been taken before any investigations, without providing any clue and proof, and has been only based upon the ridiculous justification that 'There is no other explanation'."
The Yemeni forces on September 14 launched drone attacks on two plants at the heart of Saudi Arabia's oil industry, including the world's biggest petroleum processing facility.
The attacks came in retaliation for the Saudi-led coalition's continued aggression on the Arabian Peninsula country.
Since March 2015, Saudi Arabia and some of its Arab allies have been carrying out deadly airstrikes against the Houthi Ansarullah movement in an attempt to restore power to fugitive former president Abd Rabbuh Mansour Hadi, a close ally of Riyadh.