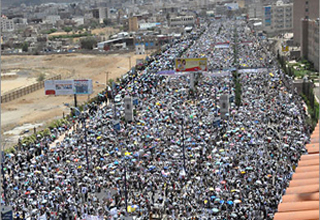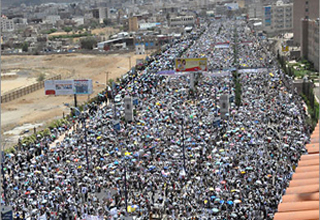 Young protesters celebrated what they said was the fall of Yemen's regime on Sunday after dictator Ali Abdullah Saleh left the country for Saudi Arabia.
"Today, Yemen is newborn," sang dozens of youths in Sanaa's University Square — dubbed "Change Square" — the epicenter of anti-regime protests that have raged against Saleh's rule since January.
"This is it, the regime has fallen," others chanted.
The Yemen's dictator, was transferred to Saudi Arabia for medical treatment late on Saturday, a Saudi official said.
The embattled dictator suffered "burns and scratches to the face and chest," an official said after the ruling General People's Congress said he was "lightly wounded in the back of the head."
In Sanaa, a presidential palace source only confirmed the departure of Saleh, who under the constitution is to be replaced by Deputy President Abdel Rabbo Mansur Hadi in his absence.