Iran
Middle East
North America
Zarif: Hawks around Trump won't succeed in selling war
While warning against a potential military attack targeting Iran, Foreign Minister Mohammad Javad Zarif says the warlike officials around US President Donald Trump will not succeed in enabling such a course of action against the Islamic Republic.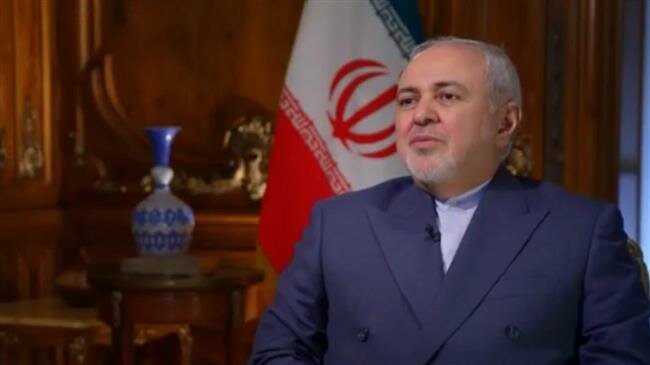 "People know that Iran is a big, proud country…We will not take a military attack lightly," Zarif told NBC News on Monday.
He, however, observed that he did not think that Trump was seeking such one either, instead pointing the finger for such malign intentions to "people are around him (Trump) who wouldn't mind."
"But I don't think they'll succeed because at the end of the day, I think prudence will prevail," the top diplomat stated.
B-Team tried to trap Trump into war: ZarifIran says the violation of its territory by a US drone was part of efforts by the B-Team to drag the US into war.
He, meanwhile, said the door is "wide open" to diplomacy if Trump removed the United States' sanctions against Iran, reiterating Tehran's assertion that its submitting to negotiation under pressure equals humiliation.
Zarif also reminded that it was the US, and not Iran, which compromised diplomatic pathways by leaving a 2015 nuclear deal with the Islamic Republic and other countries.
Washington left the agreement — officially known as the Joint Comprehensive Plan of Action (JCPOA) — that had been struck under the previous American administration last May. It then returned the nuclear-related sanctions that had been lifted by the deal. "It is the United States that left the bargaining table. And they're always welcome to return," Zarif said.
Both America's withdrawal from the JCPOA and its restoration of the bans came while the accord has been ratified in the form of a United Nations Security Council resolution.
Tensions have flared in the Persian Gulf since the US's illegal measures amid concerns that Washington would seek to prevent Iran's oil shipments through the region, and Tehran's insistence that it would stand up to any obstructive action. The situation has been compounded by the US's escalation of its military presence in the region, which has seen it sending over an aircraft carrier strike group, a bomber taskforce, an amphibious assault ship, and thousands of additional troops.
The situation has prompted some of the US's closest allies to suggest that Washington might be on its own if it tried to engage in a military conflict with the Islamic Republic.
Late last month, France's Defense Minister Florence Parly told a NATO meeting in Brussels, which had been joined by acting US Defense Secretary Mark Esper, that the US should not to involve the Western military alliance in any military mission in the Persian Gulf.
Also on Monday, the leading candidate to become Britain's next prime minister Boris Johnson said he would not back the United States if it took military action against Iran.
"Were I to be prime minister now, would I be supporting military action against Iran? Then the answer is no," he told a leadership debate.
Another British premiership hopeful Jeremy Hunt said last month that the UK would "have to consider" any request from Trump for a war with Iran. "We will stand by the United States as our strongest ally but of course we have to consider any requests for military support on a case-by-case basis," Hunt said.
Zarif finally repeated Iran's rejection of nuclear weapons as decreed by Leader of the Islamic Revolution Ayatollah Seyyed Ali Khamenei, the country's highest authority. "Had we been interested in developing nuclear weapons, we would have been able to do it long time ago," the foreign minister said.