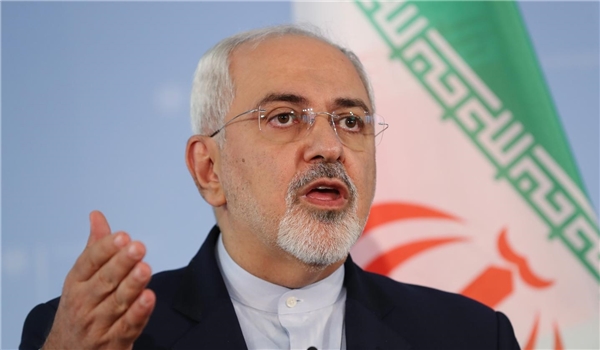 Iranian Foreign Minister Mohammad Javad Zarif in a meeting with Iraqi Parliament Speaker Mohamad al-Halbousi praised Baghdad's stance and efforts to decrease tensions and differences among the regional states.
During the meeting in Baghdad on Sunday, Zarif admired Baghdad's stance on rapprochement of the regional countries, saying that Tehran welcomes all efforts for solving problems with countries in the region.
Halbousi, for his part, said that Baghdad is eager to have more cooperation with Iran, as well as other countries in the region.
The two sides also discussed the latest developments in the region and bilateral relations.
Iran's foreign minister arrived in Baghdad Saturday and met with Iraqi president, prime minister and his counterpart as well as other high-ranking officials.
In a joint press conference with his Iraqi counterpart Mohammed al-Hakim in Tehran on Sunday, Zarif underlined good talks with al-Hakim on regional issues, saying that Iran was willing to have balanced relations with all the Persian Gulf littoral states.
"Iran is ready to sign non-aggression pacts with the Persian Gulf Arab states," he said.
Before meeting al-Hakim, Zarif met with Iraqi President Barham Salih in Baghdad on Saturday.
During the meeting, Salih welcomed his Iranian counterpart's invitation to visit Tehran, emphasizing the need to further broaden bilateral relations.
The two high-ranking officials discussed regional developments and bilateral ties.
According to a statement by the Iraqi president's office, Salih and Zarif also underlined the necessity for preventing increased tensions in the region and importance of joint efforts to protect the region from the damages resulting from the US sanctions.
The statement also added that Salih stressed the importance of strengthening relations and cooperation with Iran.
During the meeting, Zarif submitted an invitation from President Hassan Rouhani to Salih which was welcomed by the Iraqi president.