Iran
Iraq
Middle East
North America
Qasem Suleimani
World News
Zarif to Trump: It's people, not 'beautiful' arms that rule world
Iranian Foreign Minister Mohammad Javad Zarif slams US President Donald Trump for constantly bragging about the size of the US military and its advanced equipment, reminding him that it is people, not "beautiful military equipment," that rule the world.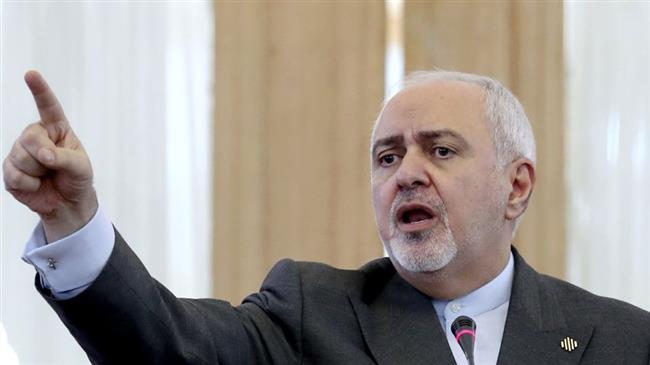 In a post on his Twitter account on Thursday, Zarif responded to Trump, who has recently been bragging about the size of the US army and the state-of-the-art weapons and military equipment in its possession.
In a tweet on Sunday, Trump threatened that in the event of an Iranian attack on an American base or an American national, some of the "beautiful" US military equipment acquired over the past three years would be sent its way, "and without hesitation."
The tweet came days after a US drone assassinated senior Iranian commander Lieutenant General Qassem Soleimani and a number of his companions in Iraq, for which Tehran vowed "harsh revenge" against Washington.
In a speech that followed Iran's retaliatory missile attacks on two US bases in Iraq, Trump boasted about the US army and military equipment.
"Our missiles are big, powerful, accurate, lethal, and fast. Under construction are many hypersonic missiles," Trump said, although he backed down from an earlier threat of more military actions against Iran.
In response, the top Iranian diplomat downplayed Trump's remarks, tweeting ""Beautiful military equipment" do not rule the world: people do."
Zarif posted a link to his Tuesday interview with the CNN on the sidelines of the Tehran Dialogue Forum 2020, in which he explicitly elaborated on the US's destructive role and notoriety in the Middle East.
My interview w/ CNN on sidelines of #TDF2020, before we carried out proportionate military response—delivering on our [email protected] has been fed disinformation.

"Beautiful military equipment" do not rule the world: people do.

And people of our region want U.S. out. pic.twitter.com/0usmqgPNln— Javad Zarif (@JZarif) January 9, 2020
"Donald Trump has to realize that the US has been fed misinformation", Zarif tweeted. "And people of our region want US out."
In his CNN interview, which took place days after General Soleimani's assassination, Zarif responded to a question if it was worth speaking to Trump and said, "It doesn't need speaking. He has to realize that he has been fed misinformation. And he needs to wake up, and apologize. He has to apologize, he has to change course."
"Has (Trump) made Americans more secure? Do Americans feel more secure, or more welcome in this region?" Zarif asked, alluding to the US huge spending on Middle East wars.
Zarif's interview came on the same day that Iran's Parliament unanimously passed a motion designating the Pentagon and all subsidiaries terrorist following the targeted killing by the US of General Soleimani.
Delivering on his pledge to take "harsh revenge" against the US, Iran targeted two US bases in neighboring Iraq with tens of ballistic missile, which all hit the intended targets precisely.