Iran
Middle East
Zarif: UK's unlawful tanker seizure piracy on behalf of B-Team, must end
Iran's Foreign Minister Mohammad Javad Zarif says recent seizure of a tanker carrying Iranian oil by British forces off the coast of Gibraltar is "pure and simple" piracy on behalf of the B-Team.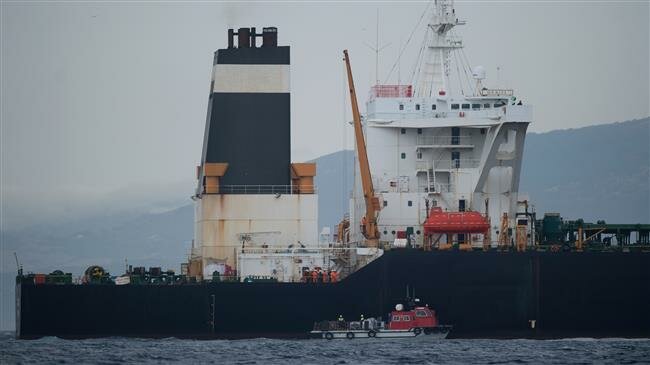 Taking to his official Twitter page on Monday, Zarif said, "UK's unlawful seizure of a tanker with Iranian oil on behalf of #B_Team is piracy, pure and simple."
The hawkish group referred to as the "B-team" by Iran's foreign minister is comprised of US National Security Adviser John Bolton, Israeli Prime Minister Benjamin Netanyahu, Saudi Crown Prince Mohammed bin Salman and Abu Dhabi Crown Prince Mohammed bin Zayed Al Nahyan.
Gibraltar police and customs agencies, aided by a detachment of British Royal Marines, boarded and impounded Iranian supertanker Grace 1 in the Strait of Gibraltar on Thursday, upon a request from the United States.
Later that day, Iran's Foreign Ministry summoned Britain's ambassador to the country, Rob Macaire, to express its strong protest at the move. He was told that the British Royal Marines' move was tantamount to "maritime piracy."
Iran summons UK envoy after 'illegal' tanker seizureIran's Foreign Ministry summons Britain's ambassador to the country after British forces seize an Iranian oil tanker in the Strait of Gibraltar.
In another part of his tweet, Zarif referred to the British government's claim that the tanker had been carrying Iranian oil to Syria, which is under European Union's sanctions, saying talks of the shipment being in breach of the EU bans against Syria were irrelevant as "Iran is neither a member of the EU nor subject to any European oil embargo."
Pointing to the fact that the seizure of the tanker had been conducted at the behest of the US government, which amounts to imposition of US laws on other countries, Zarif noted, "Last I checked, EU was against extraterritoriality."
Iran's top diplomat warned that the illegal measure "sets a dangerous precedent and must end now."
Defense chief: Iran won't tolerate UK's maritime piracyIran's defense chief slams as an act of "piracy" Britain's move to seize an Iranian oil tanker in the Strait of Gibraltar.
Spain, which challenges the British ownership of Gibraltar, has said the seizure was prompted by a US request to Britain and appeared to have taken place in Spanish waters.
However, the British-claimed overseas territory rejected the claim on Friday, saying that Gibraltar had acted independently.
Gibraltar's position comes as a British Foreign Office spokesman had welcomed the move on Thursday, describing it as a "firm action by the Gibraltarian authorities, acting to enforce the EU Syria Sanctions regime."
Bolton — an ardent hawk behind the White House's highly hostile Iran policy — has also praised the measure.
The seizure of the Iranian tanker comes as the US has pledged to reduce Iran's oil exports to "zero" as part of the sanctions that it has reinstated after leaving a multilateral 2015 nuclear deal with Iran last year.
Tensions have further escalated between the two countries when the US began to send military reinforcements and troops to the Middle East in early May, citing alleged "threats" from Iran.
Several oil tankers have also been targeted near the Persian Gulf region, with Washington and its ally Saudi Arabia quickly blaming Iran for the attacks.
Tehran has rejected any involvement, saying the incidents appear to be false flags meant to frame the Islamic Republic.