North America
Zionist Bush urges his brother President Obama not to lift sanctions against Iran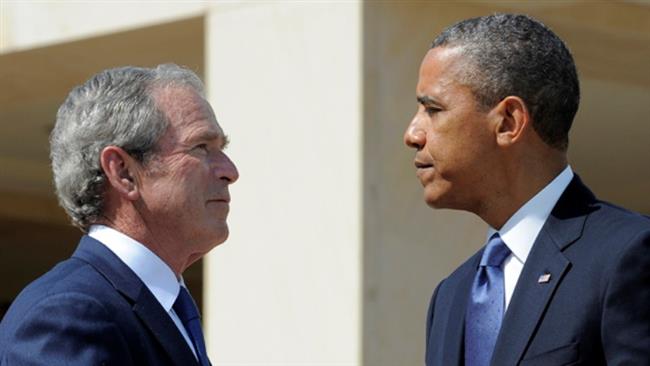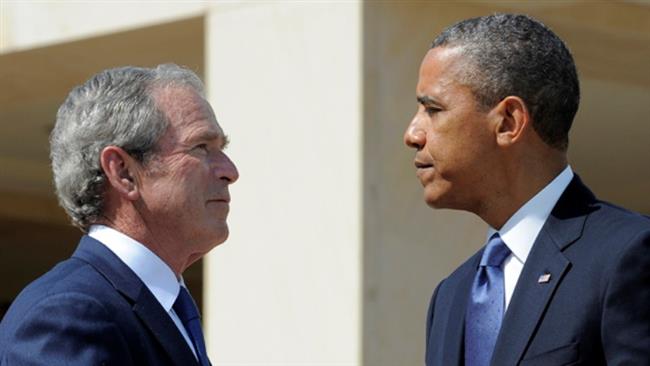 Former US president George Bush has called on President Barack Obama not to remove sanctions imposed against Iran over the country's nuclear program following a possible final agreement.
The ex-president sharply criticized Obama's foreign policy in a closed-door meeting with hundreds of Jewish donors in Las Vegas on Saturday night, the New York Times reported.
Bush also expressed "skepticism about the Obama administration's pursuit of a nuclear deal with Iran," according to the Times.
He suggested that it was not wise to lift sanctions against Iran and said that Washington "risked losing leverage if it did so."
Bush warned that a possible nuclear deal would be bad for American national security in the long term.
The US and its negotiating partners reached a framework nuclear agreement with Iran in Switzerland on April 2.
Tehran and the P5+1 group – the US, Britain, France, China, Russia and Germany – are currently working to draw up a final accord by the end of June.
Among the key points of nuclear negotiations is the lifting of all sanctions once a final deal is reached on the Islamic Republic's nuclear activities.
The Obama administration says the sanctions could be phased out. However, the Iranian government stresses that all sanctions have to be lifted as soon as a possible final deal comes into force.
White House Deputy National Security Adviser Ben Rhodes said removal of anti-Iran sanctions would be phased.
Iranian President Hassan Rouhani reiterated that Tehran would not sign any final nuclear accord unless "all economic sanctions are totally lifted" on the first day of the implementation of the deal.
American figures backing Israeli Prime Minister Benjamin Netanyahu have expressed their opposition to a potential agreement with Iran.
Netanyahu is against the deal and last month delivered a controversial speech at the US Congress to condemn any accord between the two sides.
Following the speech, Obama said there was "nothing new" in Netanyahu's speech to a joint session of Congress.
"I did have a chance to take a look at the transcript, and as far as I can tell, there was nothing new," Obama told reporters.
President Obama and Secretary of State John Kerry defended the nuclear talks at several occasions.
Obama also did not rule out lifting sanctions earlier this month, saying removal of the sanctions "will require some creative negotiations" by Kerry and others.
"How sanctions are lessened, how we snap back sanctions if there's a violation, there are a lot of different mechanisms and ways to do that," Obama said.