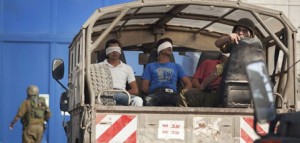 The Zionist occupation forces launched last night large-scale raids of houses in several neighborhoods in Jerusalem's Old City and kidnapped dozens of young Jerusalemites.
Special sources said to our correspondent that the campaign resulted in the capture of about 13 young men and boys, some of whom were identified as: Muhammad Maher Ennabi (15 years), Omar Najib (15 years), Mohamed Ali Salim (16 years), Hassan Mohammed Al-Sheikh (16 years old ) and Luay Al-Ghazzawi (15 years), all from the old town neighborhoods and districts adjacent to the town.
The residents of "Ras al-Amud" neighborhood confirmed that a large force of the Zionist soldiers and intelligence stormed the area and raided several houses before capturing a number of young people.
The neighborhoods of Al Sawanah, Ras al-Amud, Wadi Al Joz and others had witnessed violent confrontations between citizens and Zionist forces yesterday, during which youths pelted soldiers with stones and empty bottles, while Zionist forces fired a barrage of sound bombs, bullets and toxic tear gas.
The Zionist forces used a unit of arabists between angry youths, led to the injuring and kidnapping of a number of boys and young men who were taken to "Al Maskobeya" detention and interrogation center west of the city of Jerusalem.