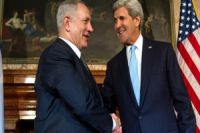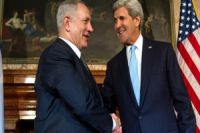 US Secretary of State John Kerry has reassured Zionist regime's Prime Minister Benjamin Netanyahu, who is fiercely opposed to diplomacy with Iran, about ongoing nuclear negotiations.
Kerry said when he was meeting with Netanyahu in the Italian capital city of Rome on Wednesday: "We do welcome the change of rhetoric, the change of tone, the diplomatic opening that the Iranians have offered."
He added: "We are adamant that words are no substitute for actions."
The top US diplomat said the United States is pursuing "a diplomatic initiative with eyes wide open."
The United States, Russia, China, France, Britain and Germany held nuclear talks with Iran in Geneva earlier this month. The two sides are set to meet again in Geneva on November 7-8.
Kerry said that meanwhile the Obama administration will not let up its pressure on Iran.
The hawkish Zionist regime premier, who has found himself increasingly isolated as the world powers are engaged in negotiations with Iran, reiterated his baseless accusations against Tehran.