North America
Zionist Obama keeps war option despite Syria chem. deal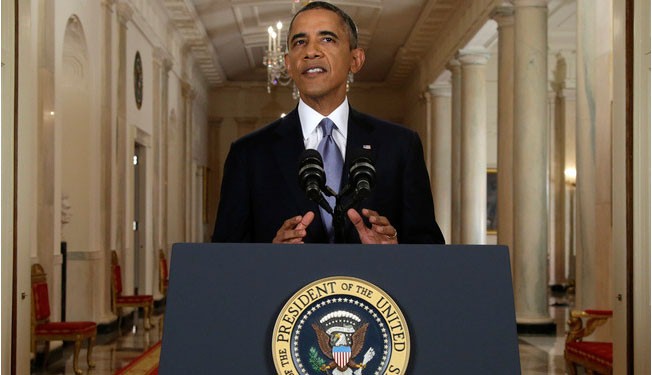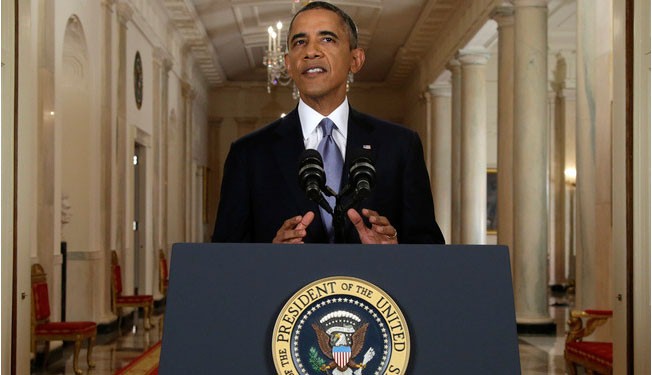 US President Barack Obama has described the deal between Moscow and Washington to identify and seize Syria's chemical weapons as "an important, concrete step" but still left open the likelihood of using military action against Damascus if the agreement fails.
"This framework provides the opportunity for the elimination of Syrian chemical weapons in a transparent, expeditious and verifiable manner," Obama stated, adding, "If diplomacy fails, the United States remains prepared to act."
Obama's statement came just hours after Russian Foreign Minister Sergei Lavrov and Secretary of State John Kerry announced the deal in Geneva, Switzerland.
The framework calls for Syrian President Bashar Assad's government to turn over a list of its chemical weapons, munitions and related facilities within a week, and to allow international inspectors into the country "no later than November."
According to the deal, Syria's chemical arms would be destroyed — possibly at sites outside of Syria — by mid-2014.
Obama further claimed that the landmark agreement came because his administration had threatened military force in response to an August 21 chemical attack near Damascus that US and its anti-Syrian alliance immediately blamed on the Syrian government.
The Syrian government has fiercely rejected the accusation, insisting that the foreign-backed insurgents in the country deliberately waged the gruesome attack to frame government forces.
Obama, however, abruptly backed off his threat of airstrikes last month and said he would first seek authorization for the use of force from Congress, which has been extremely skeptical of the idea.
Russia then seized on a seemingly impromptu remark from Kerry on Monday that opened the door to diplomacy if Syrian President Bashar al-Assad acknowledged his chemical arsenal and turned it over to international control.
This is while Kerry stated Saturday that under the Russia-US agreement, if Damascus fails to meet the benchmarks, a resolution would be sought at the UN Security Council to enforce compliance.
Punitive measures could include sanctions, but Russia, a permanent Security Council member, has staunchly opposed stricter measures, such as armed intervention.
Obama, however, said the United States would continue working with Security Council members to ensure penalties if President Assad does not abide by the terms of the deal.
"The use of chemical weapons anywhere in the world is an affront to human dignity and a threat to the security of people everywhere," Obama boasted. "We have a duty to preserve a world free from the fear of chemical weapons for our children."
Obama's claims on the dangers of chemical arms, however, come as a former US military officer recently confirmed earlier reports that the US government had knowledge of and helped the former Iraqi dictator Saddam Hussein to deploy chemical weapons against Iranian civilians and military forces as well as its own Kurdish population during the eight-year war it imposed on the Islamic Republic of Iran.
Retired US military officer Karen Kwiantowski insisted in an interview with Voice of Russia on Thursday that Washington gave Saddam Hussein chemical weapons to be used against Iran during the imposed war in the 1980's.
"So, yeah, we've done it. It's old news how we took sides in the Iraq-Iran war …we did provide chemical weapons and biological weapons to Saddam Hussein as he was fighting in that long war with Iran. And we did this, it's been well publicized," she said.