Iran
Middle East
North America
Syria
Zionist Pompeo categorizes US aggression in Iraq, Syria as 'defensive action'
US Secretary of State Mike Pompeo has categorized a series of aggressive American military strikes in Iraq and Syria that killed more than two dozen people as a "defensive action" intended to protect his country's interests in the Middle East.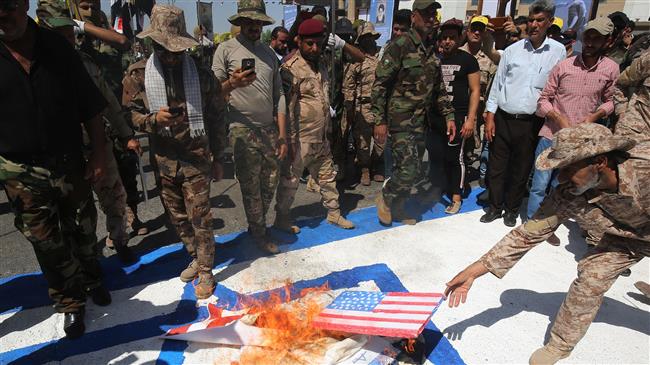 "Well, it begins by an understanding that this was a defensive action designed to protect American forces and American citizens in Iraq, and it was aimed also at deterring Iran," Pompeo told Fox News on Monday.
The Pentagon announced on Sunday it had conducted "precision defensive strikes" in Iraq and Syria against five sites of Kata'ib Hezbollah, which is part of Iraq's Popular Mobilization Units (PMU).
US forces conducted drone strikes on a number of Kata'ib Hezbollah bases in Iraq's western Anbar province, killing at least 25 individuals and leaving another 51 injured, according to the PMU.
Following the strikes, the Pentagon issued a statement saying that it had targeted three locations of the Iraqi fighters in Iraq and two in Syria in response to alleged attacks targeting American forces.
Iraqi President Barham Salih has condemned Washington's attacks on Kata'ib Hezbollah.
The Iranian government has also condemned the "illegal and unjustifiable" US strikes on popular forces in Iraq and said that it is ironic that the United States is still occupying some parts of Iraq and bombing the Arab country's people while it "shamelessly claims that it respects the Iraqi government's sovereignty."
The US blamed Kata'ib Hezbollah for carrying out a rocket barrage on Friday that allegedly killed an American military contractor at a base near Kirkuk, in northern Iraq.
Several US service members and Iraqi personnel were also wounded in the reported incident, Reuters reported, citing a US-led military coalition, which has stationed itself in Iraq under the pretext of fighting the Takfiri terror group of Daesh.
"They took a strike at an American facility. President Trump's been pretty darn patient, and he's made clear at the same time that when Americans' lives were at risk, we would respond, and that's what the Department of Defense did yesterday," Pompeo said.
Iraqi president condemns US attack on PMU bases as death toll reaches 25Iraq
The air raids were also welcomed by Israel's foreign minister, Yisrael Katz, who described the event as a "turning point in the regional response to Iran and its proxies".
Washington and Tel Aviv regularly label popular resistance movements opposed to US presence in Iraq as "Iran-led terrorist groups", a label which has been vehemently rejected by Iraqi officials.
Kata'ib hezbollah, along with other units operating under the PMU, have had a major role in defending Iraq from the Deash Takfiri terrorist group, which swept across Iraq in 2014.