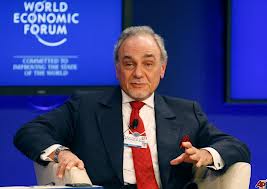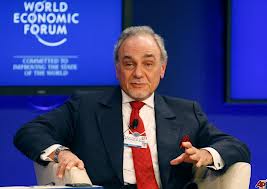 A former Saudi intelligence chief Friday revived his country's demand that the U.S. take the lead pushing through a U.N. resolution authorizing armed international intervention in Syria.Turki al-Faisal
"I want America to get a Security Council resolution that forces should be deployed to stop the fighting in Syria," Prince Turki al-Faisal told a panel at the World Economic Forum in Davos. "If that is not available, then at least humanitarian corridors, to allow people not to starve," he said.
Prince Turki's demand—the latest in two years of such calls by the Saudis—highlighted the lasting stalemate among rival world powers on Syria as the death toll and regional tensions from the conflict grow.
"The only way you can" drive extremist fighters back out of Syria is "concerted international effort led by the United States," he said, in comments streamed on the World Economic Forum web site.
The sharpest moments on the panel Friday came when Prince Turki sparred verbally with a leading Russian parliament member, also on the panel. The Saudi prince urged Russia to stop shipments of arms and other materiel to Mr. Assad's government.
"Will Saudi stop supplying weapons to the rebels?" responded the Russian parliament member, Alexey Pushkov, chairman of the Russian Duma's international-affairs committee.
"Absolutely," Prince Turki said.
"I'm not sure," Mr. Pushkov replied.
"You're not sure? Try it," Prince Turki said, drawing laughter from the audience.
Prince Turki, under the Russian lawmaker's questioning, also denied the Saudi government was supporting extremists among the Syrian rebels.
"We support the Free Syrian Army," he said, referring to a rebel faction also backed by the U.S. and other Western governments.
Prince Turki al-Faisal claimed that there is no Saudi money going to the takfiri militants.
"If there are individuals who contribute…that might be happening."