Palestine
Zionist regime continues siege on WB village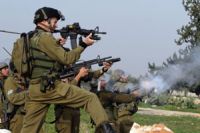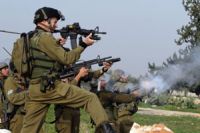 The Zionist regime forces continue a military siege on a Palestinian village near the West Bank city of Ramallah for the third consecutive day.
According to Press TV, on Monday, the Zionist regime forces blocked all main entrances to the village of Nabi Saleh, and attacked anyone who attempted to enter or leave the village.
The Israeli regime imposed the blockade on the village after declaring it a 'military closed zone.' Residents of the village complain that they are facing a humanitarian crisis after the blockade.
The blockade by the Zionist regime forces came three days after the residents held a weekly protest against the illegal Israeli settlement activities happening nearby. Forces arrested two Palestinian women and three foreign journalists and injured dozens of others.
The presence and continued expansion of Israeli settlements in occupied Palestine has created a major obstacle for the efforts to establish peace in the Middle East.
More than half a million Israelis live in over 120 illegal settlements built since Israel's occupation of the Palestinian territories of the West Bank and East al-Quds in 1967.