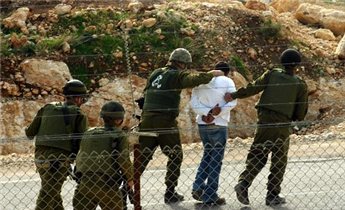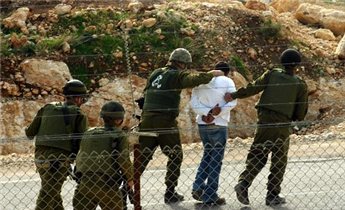 Zionist forces detained around 30 Palestinians in a refugee camp near Al-Khalil early Saturday a day after Palestinians were prevented from entering the Ibrahim Mosque in order to let illegal settlers living nearby celebrate the Jewish New Year.IOF detaining Palestinians
Israeli occupation forces escorted dozens of young men and children from the camp in the raid, local popular committee spokesman Ahmad Abu Khayran said. "We still don't know the exact number of detainees, because from time to time the Israeli forces release a few of those detained since dawn," Abu Khayran told Ma'an news agency.
Earlier, a firebomb was thrown at a military tower near the camp in the southern West Bank, setting it on fire. Witnesses said Zionist soldiers ransacked dozens of homes, breaking doors and beating residents before taking dozens of handcuffed men and children out of the camp.
Israeli authorities had said that the Ibrahim mosque will be closed to Muslims until Friday so that settlers can celebrate the new Jewish calendar year, or Rosh Hashanah, at a synagogue on the same site.
A Palestinian Authority official described the Israeli decision to shut down the Muslim section of the mosque as "a violation of the sacredness of the Ibrahim Mosque by the Israeli occupation and its settlers."
Israeli authorities have handed the Palestinian Authority a notice to expropriate another section of the mosque in order to annex it to the Jewish section.
Human rights groups have called on the international community to stop Israel from the Judaization of the holy site.
Meanwhile, Israeli occupation troops fired stun grenades at Palestinian protesters inside al-Aqsa compound in al-Quds (Jerusalem) after Friday Prayers.