Human Rights
North America
Palestine
World News
Zionist regime, US team up to sabotage ICC war crimes investigation
The United States and Israel are reportedly coordinating a joint campaign against the International Criminal Court (ICC) as both face potential war crimes charges at the Hague.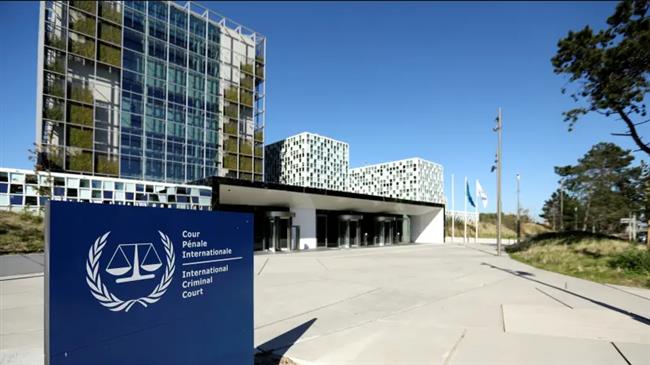 According to Israel's Channel 13 news, an Israeli delegation led by energy minister Yuval Steinitz was in Washington on Thursday and Friday to discuss with senior US officials the ICC's possible investigation into war crimes committed by the Israeli regime in the occupied Palestinian territories.
The Hague's pre-trial chamber is currently debating whether the ICC has jurisdiction to hear war crimes cases against Israel for actions committed in the occupied West Bank, East Jerusalem al-Quds and the besieged Gaza Strip.
Israel and the US have both refused to sign up to the ICC, which was set up in 2002 to be the only global tribunal trying the world's worst crimes, war crimes and crimes against humanity.
Both Tel Aviv and Washington have claimed that they have credible legal systems that can properly adjudicate human rights violations and there is no need for ICC intervention.
US President Donald Trump's administration has backed Israel in its battle against the court. The Palestinian Authority joined it in 2015.
The ICC has to accept briefs on Israel's behalf from Germany, Austria, Hungary, the Czech Republic, Uganda, Brazil and Australia on the question of jurisdiction. The briefs are expected to be filed by March 16. Canada has also told the ICC it opposes war crimes suits against Israel.
ICC to investigate Israel's war crimes in Palestinian territoriesThe International Criminal Court says it will launch a full investigation into war crimes in the Palestinian territories.
The trip by the Israeli delegation was timed to coincide with the ICC's decision to open an investigation into war crimes and crimes against humanity by the US in Afghanistan.
"The appeals chamber considers it appropriate to… authorize the investigation," presiding Judge Piotr Hofmanski said at the court in The Hague on Thursday.
He said prosecutors' preliminary examination in 2017 had found reasonable grounds to believe war crimes were committed in Afghanistan and that the ICC has jurisdiction.
The court upheld an appeal by prosecutors against a pretrial chamber's rejection in April last year of chief prosecutor Fatou Bensouda's request to open a probe in Afghanistan.
In 2006, the ICC's prosecutors opened a preliminary probe into possible war crimes and crimes against humanity committed in the Asian nation since 2003.
ICC gives green light to investigation of US crimes in Afghanistan The International Criminal Court has given the green light to prosecutors to open an investigation into US war crimes and crimes against humanity in Afghanistan.
In 2017, prosecutor Bensouda asked judges to allow a full-blown probe, not only into Taliban and Afghan government personnel but also international forces, US troops and members of the Central Intelligence Agency (CIA).
Bensouda's move angered Washington, which in April last year revoked the Gambian-born chief prosecutor's visa as part of broader restrictions on ICC staff probing American or allied personnel.
Former national security adviser John Bolton warned in 2018 that the US would arrest ICC judges if the court pursued an Afghan probe.
The ICC decision, which came days after the US agreed to pull its troops from the long-running conflict, opens the way for prosecutors to launch a full investigation, despite Washington's opposition.
New York-based Human Rights Watch (HRW) and other international rights bodies on Thursday hailed the decision to uphold the prosecutions' appeal.
The US invaded Afghanistan to overthrow a ruling Taliban regime in 2001. American forces have since remained bogged down in the country through the presidencies of George W. Bush, Barack Obama, and Donald Trump.
About 2,400 US soldiers have been killed, along with unknown tens of thousands of Afghan troops, Taliban militants and Afghan civilians.
America has spent more than $1 trillion on fighting in Afghanistan.
Fighting has continued ever since — last year more than 3,400 civilians were killed and almost 7,000 injured, according to data provided by UN agencies.
Over 100,000 Afghans have also been killed or injured since 2009, when the UN Assistance Mission in Afghanistan began documenting casualties.