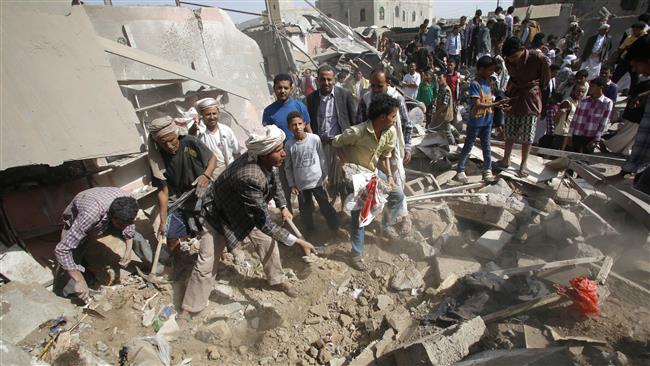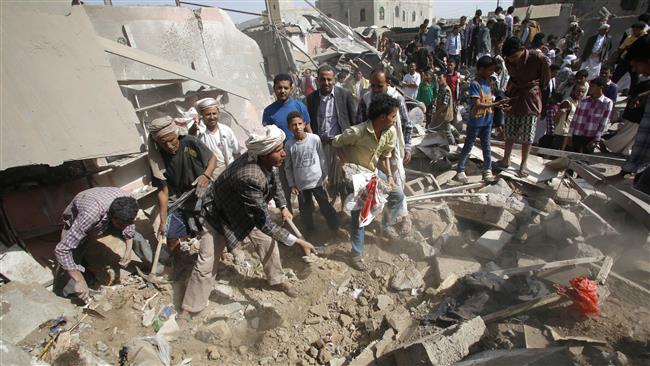 Enemy of Islam Saudi regime warplanes have continued their airstrikes against areas across Yemen, killing at least 115 people in the northwestern province of al-Hudaydah.
According to reports, the people were killed on Friday after the Saudi America fighter jets pounded a number of islands, including Uqban and Kamaran, in the Red Sea.
The zionist Saudi warplanes reportedly launched over 20 sorties on the islands.
It was also said that the Saudi jets targeted a number of fishing boats in the area and prevented them from providing aid for the people on the targeted islands.
Riyadh also bombarded residential areas in the Yemeni province of Sa'ada, killing at least 11 people and injuring two others in the district of Haydan.
It was reported a gas station and some shopping centers were targeted in the Saudi attacks on the district as well.
Saudi Arabia also pounded residential areas in the district of Bani Hashish in the province, killing at least two children. Saudi attacks were reported in other districts of the province, including Baqim and Kattaf.
Elsewhere, Saudi warplanes also bombarded the district of Bayhan in the southern province of Shabwah, killing at least three civilians.
Local Yemeni media outlets said that Saudi Arabia targeted a market in the Yemeni northwestern province of Hajjah, causing the death of eight civilians and wounding at least 20 others.
Witnesses also confirmed that Saudi fighters targeted the power plant and pylons in the district of Abs in the province.
The Yemeni provinces of Ta'izz and Ma'rib were also bombed by Saudi warplanes.
On Wednesday, the International Committee of the Red Cross said that Saudi warplanes had targeted residential areas in Ta'izz, which is Yemen's cultural capital and third largest city, killing at least 22 people and wounding 140 others.
Yemen has been under incessant Saudi strikes since March 26. The strikes are supposedly meant to undermine the Houthi Ansarullah movement and restore power to the fugitive former president, Abd Rabbuh Mansur Hadi, a staunch ally of Riyadh.
Riyadh has repeatedly used cluster bombs against the Yemenis during the past months. On Wednesday, Saudi jets reportedly dropped banned cluster bombs on Sa'ada and killed an unspecified number of civilians.
Some 7,000 people have lost their lives in the airstrikes, and a total of nearly 14,000 people have been injured since late March.
As many as 114,000 others have also been forced to flee the war-stricken country due to the Saudi aggression, according to a UN report earlier this month.