Zionist UAE regime opens phone services with zionist regime, unblocks zionist websites following normalization accord
The United Arab Emirates has removed a block on telephone services with Israel and unblocked zionist websites as part of their new agreement to normalize bilateral relations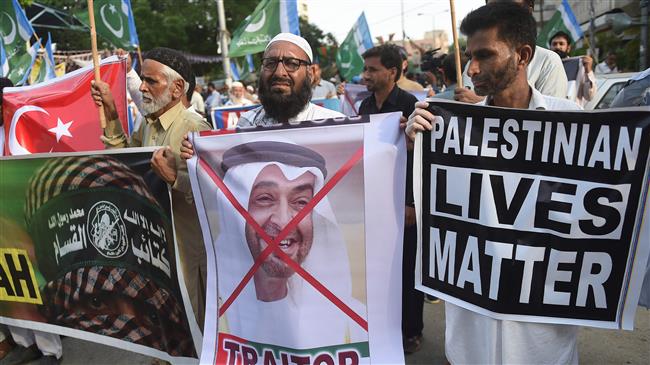 Foreign ministers of Israel and the United Arab Emirates held their first publicly-acknowledged direct phone call on Sunday after Abu Dhabi's recent agreement to normalize relations with Tel Aviv.
The UAE's Sheikh Abdullah bin Zayed Al-Nahyan and his Israeli counterpart, Gabi Ashkenazi, spoke by phone to inaugurate the newly-opened lines.
Shortly afterwards, Ashkenazi tweeted that the two regimes "decided together on the establishment of a direct communication channel ahead of the signing of the normalization agreement and… to meet soon."
Phone links for the public were also functioning between the two sides.
According to reports, Israeli news websites, which previously were blocked in the UAE, could also be accessed using UAE internet connections.
"I congratulate the United Arab Emirates on the unblocking," Israeli Communications Minister Yoaz Hendel said on Twitter, adding that the normalization of the two regime's relations could open up "many economic opportunities."
UAE's Telecoms Regulatory Authority and the country's two main telecoms operators, Du and Etisalat, did not immediately respond to a request for comment.
Israel and the UAE on August 13 reached the deal that will lead to a full normalization of diplomatic relations between the two sides, in an agreement apparently brokered by US President Donald Trump.
Under the agreement, Israel has allegedly agreed to "temporarily" suspend applying its own rule to further areas in the occupied West Bank and the strategic Jordan Valley that Prime Minister Benjamin Netanyahu had pledged to annex.
According to the accord, Israeli and UAE delegations will meet in the coming weeks to sign bilateral agreements covering sectors including investment, tourism and direct flights and the opening of reciprocal embassies.
Abu Dhabi and Tel Aviv also on Saturday signed the first business deal since the accord. Emirati APEX National Investment company and Israel's Tera Group will cooperate on research and development related to COVID-19, including a testing device.
In a statement to Reuters, the UAE foreign ministry said the country plans to sign an agreement on reciprocal visas, saying more details will be announced in due course.
Anger is boiling in the Middle East and elsewhere over the agreement between Israel and the United Arab Emirates to normalize diplomatic relations, with Palestinian leaders describing it as a "stab in the back" by an Arab country.
Leading Palestinian factions have voiced their strong resentment at the "agreement".
In a telephone conversation with Islamic Jihad resistance movement Secretary General Ziad al-Nakhala on Friday, Iranian Foreign Minister Mohammad Javad Zarif said the "treacherous" deal between the Israeli regime and the UAE does not affect the Palestinian resistance against the Tel Aviv regime.
"We are confident that this treacherous move will not impact the resistance of the Palestinian people and the resistance movement," Zarif said.