North America
Asia-Pacific
Korea
US Puppets Japan, South Korea join US-led sanctions against North Korea
Japan and South Korea have imposed new sanctions on North Korean individuals and entities in response to Pyongyang's recent missile tests, a day after the US targeted North Korea with sanctions.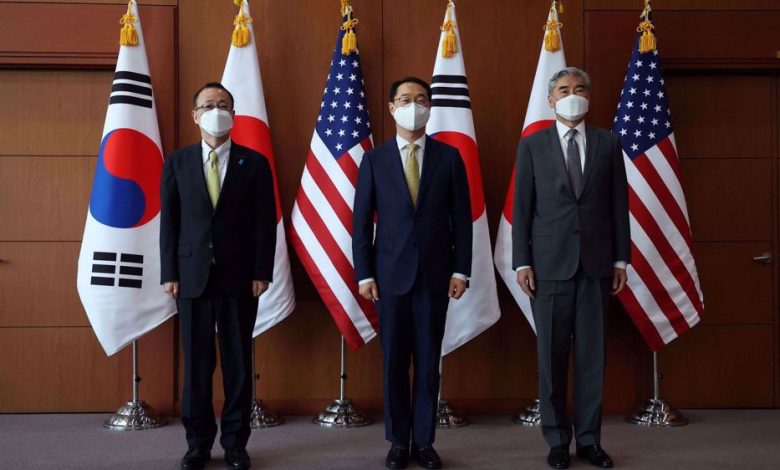 The US on Thursday froze any assets held by three North Korean officials in the United States. The US Treasury has threatened to ban anyone who deals with Jon Il Ho, Yu Jin and Kim Su Gil. US officials say the three are directly involved in North Korea's weapons development.
The sanctions also freeze any US-based assets and bar dealings with these persons, but appear to be largely symbolic with no real impact on North Korea's weapons and missiles development program.
US Secretary of State Anthony Blinken said in a statement North Korea's recent missile launches as well as the test of an intercontinental ballistic missile capable of hitting the US mainland could pose serious security risks to the region and the entire world. Blinken said the sanctions were imposed in coordination with the US allies. He said the European Union had issued similar sanctions against these three people in April.
Tokyo and Seoul announced new sanctions against Pyongyang on Friday. South Korea said it will impose sanctions on eight people, including a Taiwanese and a Singaporean citizen. South Korea's Foreign Ministry said in a statement the people have helped North Korea's nuclear and missile development.
Japan said in response to Pyongyang's "provocative acts" that it has frozen the assets of Korea Haegumgang Trading Corp and Lazarus Group, and an individual named Kim Su Il.
The United States has expressed disappointment that China, as North Korea's closest ally, and Russia prevented the United Nations Security Council from imposing sanctions against Pyongyang.
Decades of US-led sanctions have failed to halt North Korea's increasingly sophisticated missile and nuclear weapon program, which Pyongyang says it needs to defend the nation against US aggression.
On November 18, North Korea conducted an Intercontinental Ballistic Missile (ICBM) test which the US claimed was counterproductive to Washington's efforts to reduce tensions, insisting that Pyongyang should instead engage in diplomacy. US National Security Advisor Jake Sullivan said Washington was committed to using pressure and diplomacy to entice North Korea into giving up its nuclear arsenal.
Last week, Kim Yo-jong, the sister of North Korean leader Kim Jong-un and vice department director of the Central Committee of the Workers' Party of Korea, lashed out at the administration of South Korean President Yoon Suk-yeol for seeking sanctions against Pyongyang.
In a statement carried by the North's official Korean Central News Agency (KCNA), Kim's sister branded Yoon and his cabinet a "faithful dog" to the United States and called them a bunch of "idiots" who are parroting Washington, warning that using sanctions and pressure against Pyongyang would only add to the North's "hostility and anger."
Nuclear-armed North Korea has tested a record number of missiles this year, and officials in Seoul and Washington say the North has completed technical preparations to conduct a nuclear weapon test for the first time since 2017.
Amid heightened tensions in the region, Washington and Seoul have markedly stepped up their joint military exercises near the North's maritime border and airspace. North Korea considers the US military drills with South Korea to be exercises for invasion.
---