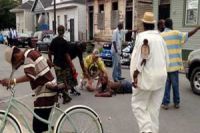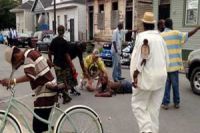 US police officials say at least 19 people, including two children, have been shot at a Mother's Day parade in the US city of New Orleans.
According to the Associated Press, Police Superintendent Ronal Serpas said that the shooting happened about 2 p.m. Sunday at the intersection of Frenchmen and Villere Streets in the city's 7th Ward.
Police said the two the children — a boy and a girl both aged 10 — suffered graze wounds, but their wounds were not life-threatening. Ten men and seven women were among the victims.
Serpas said police believe three suspects were involved in the shooting but did know what sparked the shooting.
A $2,500 cash reward has been offered to information leading to the arrest and indictment of those responsible.
The FBI said that there was no indication that the shooting was an act of terrorism.
According to police, there were about 200 people in the area when gunfire erupted.
There have been several deadly shootings across the United States over the past months, putting the issue of lax gun control laws back in the spotlight.
Every year, more than 30,000 people are shot and killed in the US.