North America
44 people shot, 5 killed in 14 hours: Just another weekend in Chicago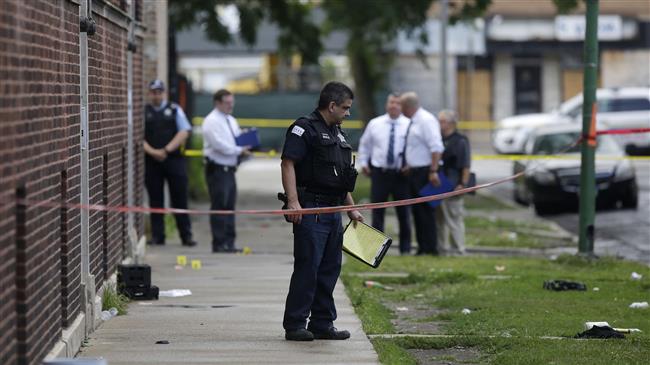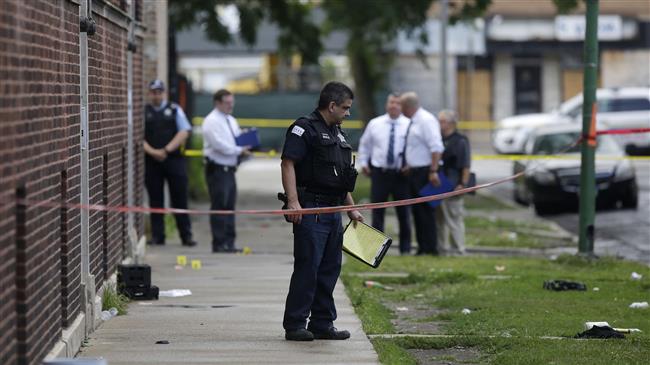 US police say at least 44 people have been shot, including five who were killed, in Chicago on Sunday, marking yet another deadly weekend in the city's long record of gun violence.
Officials said the shootings took place in the space of 14 hours – between midnight and 2 p.m.– and were expected to increase in number as the day went by.
Police records showed that 30 people were shot and two killed as a result of 10 separate incidents in three hours beginning at 1:30 a.m. Sunday, according to CNN.
"The city of Chicago experienced a violent night," Bureau of Patrol Chief Fred Waller said Sunday afternoon. "Some of these instances were targeted and were related to gang conflicts in those areas."
The victims ranged from an 11-year-old boy to a 62-year-old man, according to reports.
One incident saw shooters opening fire into a crowded street party according to Waller.
The wave of violence on Sunday was preceded by two relatively calm days as only six shootings, none of them fatal, took place on Friday, followed by 15 shootings, one fatal, on Saturday.
A local ABC affiliate channel went even further, claiming that 63 people had been shot and 10 were killed as a result of gun violence since Friday.
Chicago has been struggling with high rates of shooting and murder among other crimes over the past years. Waller, however, said shootings were down 30 percent and murders were down 25 percent compared to 2017.
Experts say crime tends to pick up during the hot summer months.
Thousands of anti-violence protesters have marched in Chicago, demanding officials to do more to stop such violence.
Last month thousands of Chicagoans marched in the city to pressure public officials to do more to stop gun-related violence.
In one rally, the protesters marched on all five northbound lanes of Chicago's Dan Ryan Expressway, bringing the interstate to a standstill to draw attention to the problem.
Each year, more than 32,000 people die as a consequence of gun-related violence in the United States, which is by far the highest among industrialized countries, according to the Centers for Disease Control and Prevention.
According to the Virginia Center for Public Safety, since former President John F. Kennedy's assassination in 1963, more Americans have been killed as a result of gun violence than all US wars.