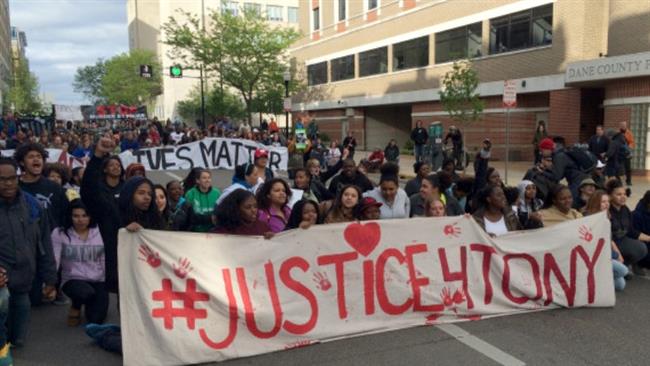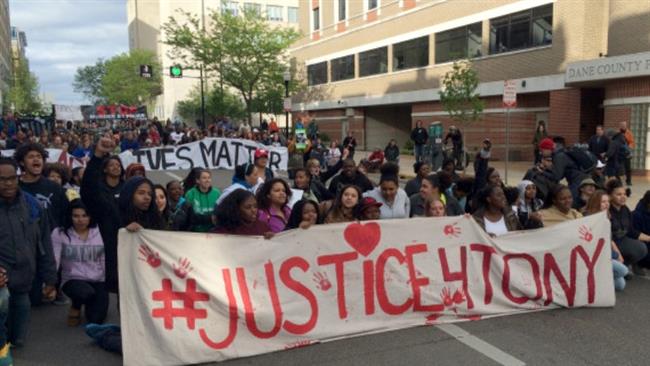 Hundreds of Americans in the state of Wisconsin have taken to the streets to protest the acquittal of a white police officer who shot dead an unarmed black teenager.
Officer Matt Kenny won't be charged for killing 19-year-old Tony Robinson in March, Dane County District Attorney Ismael Ozanne said on Tuesday.
The decision angered people in the city of Madison.
The protesters held signs that read "Black Lives Matter," and "Justice for Tony."
"I conclude that this tragic and unfortunate death was the result of the lawful use of deadly force, and that no charges will be brought against Officer Kenny in the death of Tony Robinson Jr.," Ozanne said.
"My decision will not bring Tony Robinson Junior back. My decision will not end the racial disparities that exist in the justice system, in our justice system," he added.
The black teenager was shot seven times after the police officer responded to a call claiming Robinson was acting disorderly and violent.
Andrea Irwin, the victim's mother, announced that her family would file a civil lawsuit against the Police Department.
"The things that have taken place since my son passed and the things that have been done to my family, to me, they've gone above and beyond to try to make sure they kick me when I'm down," she told CNN on Tuesday.
"They have done a smear campaign against my child and against me since this all began."
Meanwhile, the American Civil Liberties Union of Wisconsin slammed the attorney's decision.
"If Officer Kenny did not violate the law, then is anyone legally responsible for Mr. Robinson's death?" Chris Ahmuty, executive director of the ACLU of Wisconsin, said in a statement.
"Does the criminal law protect individuals like Mr. Robinson from deadly force exercised by police officers? Are police officers above the law?" he asked.
Wisconsin Professional Police Association Executive Director Jim Palmer said the decision to exonerate Kenny was "appropriate."
The investigation into this incident "has confirmed that Officer Kenny's actions on the night of March 6 were lawful and in response to a deadly threat," he said.
The shooting death of Robinson has drawn comparisons to the fatal shooting of 18-year-old Michael Brown, another unarmed black, in Ferguson, Missouri, last year.
Police brutality as well as the racial profiling of minorities by US law enforcement agencies has become a major concern in the United States.
The killing of several unarmed black men by white police officers in recent months and decisions by grand juries not to indict the officers triggered large-scale protests across the country.