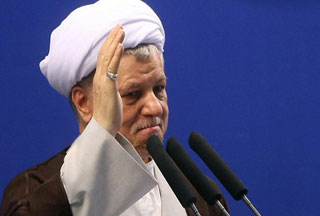 Amid widely-debated political developments in Iran, influential cleric and politician Ayatollah Akbar Hashemi-Rafsanjani visits the holy city of Mashhad to confer with senior Iranian clerics.
Hashemi-Rafsanjani — a two-time former president who heads both the top political arbitration body, the Expediency Council, and the clerical body, the Assembly of Experts – paid a visit to Iran's holy city of Mashhad on Saturday to meet with top clerics in the city and discuss the latest political ferment in the country.
The visit comes a day after Ayatollah Hashemi-Rafsanjani led the Friday prayers at Tehran University which was attended by hundreds of thousands of people.
During his sermon, Hashemi-Rafsanjani criticized authorities for their handling of the country's presidential election and the post-vote unrest.
Following the address, opposition supporters took to the streets of Tehran, chanting slogans against the incoming administration of Mahmoud Ahmadinejad.
Clashes erupted outside Tehran University campus as security forces reacted to the illegal gatherings by using tear gas to disperse protesters.
Meanwhile Hashemi-Rafsanjani's insistence on removing public doubts about the veracity of the election results and his focus on popular legitimacy has drawn fierce criticism from certain political figures in the country.
A member of Iran's electoral watchdog, the Guardian Council, Ayatollah Mohammad Yazdi reacted to Rafsanjani's remark by saying that mere acceptance of people will not ensure the legitimacy of the government.
"In Islam, the legitimacy of a government is granted by God and its acceptance by the people,"he said adding "While without the people's acceptance no Islamic government can function, this does not give the establishment its legitimacy… this important principle has been overlooked by Mr. Hashemi."
Tehran lawmaker Bijan Nobaveh has also criticized Ayatollah Rafsanjani for saying that the election dispute had thrown the country into a crisis.
"The so-called crisis is Mr. Rafsanjani's personal interpretation of the situation," Nobaveh said.