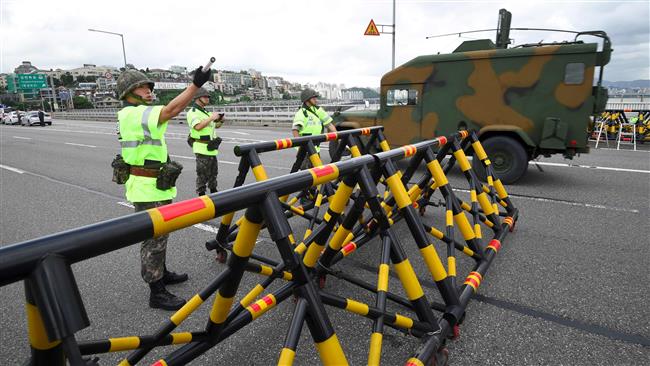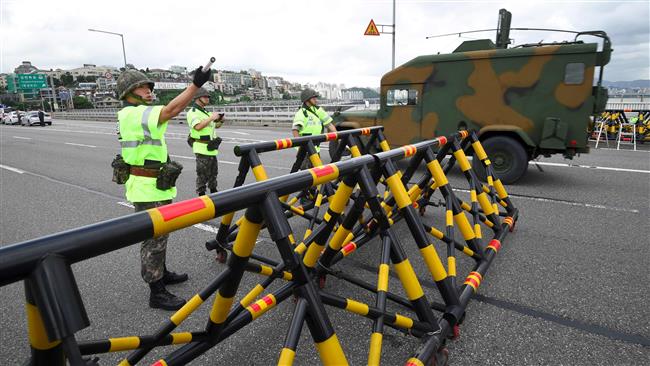 South Korea and Japan conduct separate military drills after the North launched a ballistic missile that traveled over northern Japan, sparking a fresh wave of global condemnations and warnings.
On Tuesday, four South Korean warplanes bombed a military firing range during the drill near the country's eastern coast, said presidential spokesman Park Su-hyun.
Park said the live-fire drill was conducted after South Korean President Moon Jae-in directed the military to "display a strong capability to punish" the North.
Moon's national security director Chung Eui-yong and Seoul's Foreign Minister Kang Kyung-hwa called US President Donald Trump's national security adviser H.R. McMaster and US Secretary of State Rex Tillerson, respectively, to discuss the launch.
"We will respond strongly based on our steadfast alliance with the United States if North Korea continues nuclear and missile provocations," the South's Foreign Ministry also declared in a Tuesday statement.
It also urged Pyongyang to accept talks over its nuclear program and acknowledge that abandoning its nuclear ambitions is the only way to guarantee its security and economic development.
South Korea's military also released footage of its own missile tests, which it said were carried out last week. The video clips showed two types of new missiles with ranges of 800 kilometers and 500 kilometers being fired from truck-mounted launchers during three tests performed on August 24.
In a similar move, the Japanese military deployed a Patriot Advanced Capability-3 (PAC-3) missile system at a US military base in Tokyo as part of a pre-planned maneuver. During the drill, Japan's air force servicemen operated vehicles mounted with antennas, radars, and a launch pad for PAC-3.
Pyongyang has tested a barrage of missiles over the past years, but it is the first time it launches what is believed to be a ballistic missile over Japan.
The South Korean military said the projectile, which was launched early Tuesday Korea time, flew 2,700 kilometers (1,680 miles) before reaching the Pacific Ocean.
The launched prompted Tokyo to warn residents of northern Hokkaido Island to take cover. Japanese Prime Minister Shinzo Abe also called it an "unprecedented" threat to his country.
The North's latest test comes as US and South Korean forces are conducting annual military exercises on the peninsula, which Pyongyang sees as a rehearsal for an invasion against the country.
The UN Security Council (UNSC) is due to hold an emergency session Tuesday afternoon over the North's latest missile launch at the request of Washington and Tokyo, diplomats said.
The meeting will take place after Trump and Abe agreed Tuesday to step up pressure on North Korea.
Earlier this month, the 15-member UNSC voted unanimously to impose new sanctions on Pyongyang in response to two long-range missile launches in July.
Reacting to the new wave of tensions in the wake of the North's launch, Russia said it was "extremely worried" about the situation in North Korea and blasted a "tendency towards an escalation."
Deputy Foreign Minister Sergei Ryabkov was quoted as saying by RIA Novosti state news agency as saying that the huge Washington-Seoul wargames, which began on August 21, "had played their role in provoking Pyongyang into this new firing."
China also called for restraint from all sides.
Foreign Ministry spokeswoman Hua Chunying reiterated Beijing's call for peace talks, saying "pressure and sanctions" against North Korea "cannot fundamentally solve the issue."
Earlier this month, North Korea threatened to fire missiles towards the US Pacific territory of Guam after the US president warned that Pyongyang would face "fire and fury."
Following Pyongyang's threat, Tokyo deploying Patriot missile systems  in Shimane, Hiroshima and Kochi in western Japan, which Pyongyang said it could be along the flight path of its missiles, Japan's national public broadcaster NHK reported.
Pyongyang, however, said later that it had postponed the plan.