Turkey
Anger of Turkish People escalating towards govern.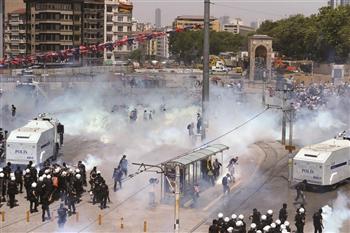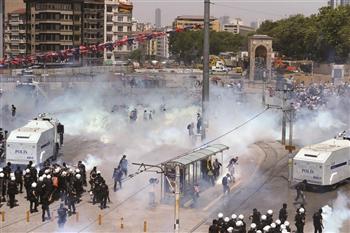 Turkish police attacked Istanbul's Taksim Gezi Park protesters, injuring dozens, as a sit-in against a mall project entered its fourth day on May 31.
Police made numerous attacks on protesters in Istanbul's Taksim area, in a crackdown on crowds gathered to stop the bulldozing of trees for a planned mall in the city center. Police detained more than 60, Istanbul Governor Hüseyin Avni Mutlu said.
The crowd was continuing to gather in the city center on the night of May 31. Also in the evening, an Istanbul court issued a stay of execution on the renovation plan of the area upon a request from a complainant.
The fourth day of the Gezi Park protests started with a raid at dawn on the central Istanbul park, which was occupied by thousands to stop the demolition for a shopping mall, but continued all day with heavy use of water cannon and tear gas all over central Istanbul. Police carried out a raid on Gezi Park at dawn on May 31, forcing protesters, who had been staging an "Occupy Taksim" movement for four days, out of the area. Police used water cannon against everyone at the park, including those who were having their breakfasts early in the morning, and evacuated park, setting up a barricade that would not allow anybody in.
The Istanbul Chamber of Medicine did not give the definite number of injuries but said "several people" had been seriously injured, suffering head traumas, arm and leg injuries and lung problems. Reuters reported the number of injured surpassed 100.
Battle in Taksim 
After the press statement at 10 a.m., police again tried to disperse the crowds who had scattered to many nearby areas, Harbiye, Gümüşsuyu and İstiklal Square, Turkey's most populated area.
Another sit-in protest was held at 1 p.m. at the Taksim Square, but the police staged another crackdown with water and gas, chasing protesters into the side streets.
Police threw tear gas into Taksim metro station, and the doors to the station were closed, leaving travelers inside with gas. Metro services were halted.
Interior Minister Muammer Güler defended the police efforts, saying that they had no other option. "Police had no other option but to disperse them when people insist on entering an area although they were told 'Don't enter'," Güler told a group of reporters in Ankara, the daily Hürriyet said. He later said that a probe was opened into "claims of disproportionate use of power by the police."
Activists continued assembling on social media throughout the day with hashtags "OccupyGezi" and "DirenGeziParki," which translates as Resist Gezi Park. The "DirenGeziParki" hashtag was a global trending topic on Twitter throughout the day.
Protesters have been staging an "Occupy Gezi Park" protest since midnight of May 26 to prevent the demolition, and police forces continued efforts to end the protest, conducting a dawn raid similar to the one conducted on May 30.