Europe
British firefighters to go on strike over pension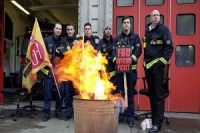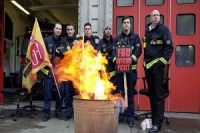 British firefighters will stage a 12-hour strike in relation to a long-running dispute with the government over pensions.
Press TV reported, English and Welsh members of the British Fire Brigades Union (FBU) are planning the strike today (Saturday) , the latest in a weekend of scheduled strikes.
Firefighters left their shifts for five hours on Friday, and will walkout again at 2:00 p.m. today, 2:00 a.m. and between 10:00 a.m. and 3:00 p.m. tomorrow, causing fire authorities to seek alternative arrangements for fire protection.
The FBU is against government plans to raise firefighters retirement age and change their pensions.
According to the proposed changes, firefighters will have to pay higher pensions contributions.
A government spokesperson said firefighters had "one of the most generous pension schemes in all the public sector."
The walkout is the latest in a series of industrial actions on the Tube since the coalition government of Prime Minister David Cameron took office, promising to rein in a record budget deficit.
The strike came after last-ditch talks between leaders of the Rail, Maritime and Transport union and managers of London Underground broke up with no sign of a breakthrough.